One World Scholarship Student Presentation
JIBC Theatre, New Westminster Campus
March 29, 2017
12:00 p.m. - 1:00 p.m.
In February, five graduates of JIBC's Fire Fighting Technologies Certificate (FFTC) program left Vancouver February 16, 2017 for El Salvador, where they were deployed for approximately two weeks supporting Lower Mainland firefighters from Fire Rescue International Training Association (FRITA) to provide basic training for firefighters in that country.
The deployment is part of a special course called Fire Protection in the Global Community and is made possible through funding from the Irving K. Barber One World International Scholarship administered by the Victoria Foundation, and with additional financial support from JIBC

Hear about their unforgettable experience in their presentation at the New Westminster Campus on March 29, 2017 from noon to 1 p.m. in the JIBC Theatre.
For more information, please contact Kim Saulnier at kim@frita.ca.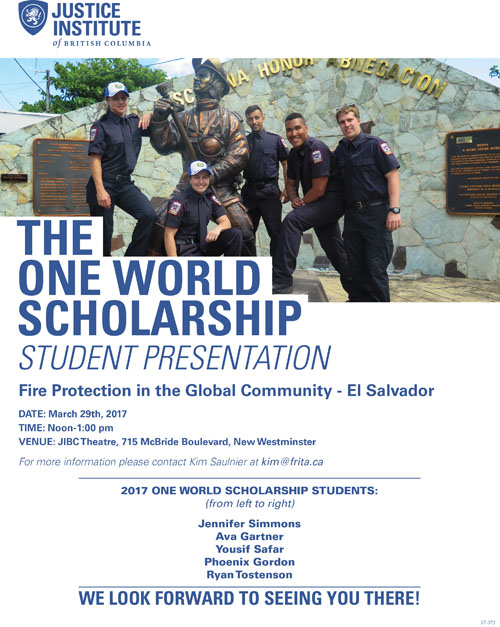 Last updated March 16, 2017