Open House & Career Fair
715 McBride Boulevard, New Westminster, BC
May 23, 2018
11:00 A.M.- 7:00 P.M.
Celebrate JIBC's 40th anniversary. Watch live training demonstrations. Learn about our programs. Speak with recruiters.
Public Address by JIBC President & CEO, Dr. Michel Tarko at 1 P.M.
Learn about JIBC Programs
Presentations in the Theatre at 11:15 A.M.,
12 P.M., 2 P.M.,5 P.M., and 6 P.M.
Live Demonstrations
Meet with Recruiters from:
BC Corrections
BC Emergency Health Services
BC Sheriffs
Vancouver Police Department
Abbotsford Police Department
Richmond Fire-Rescue
Royal Canadian Mounted Police
District of North Vancouver Fire & Rescue
New Westminster Police Department
St. John Ambulance
Speak with JIBC Program Advisors about:
Conflict Resolution
Corrections
Counselling
Emergency Management
Fire Fighting
Law Enforcement Studies
Leadership
Paramedic Academy
Sheriff Academy
For more information, contact openhouse@jibc.ca
Learn more about JIBC's 40th Anniversary here.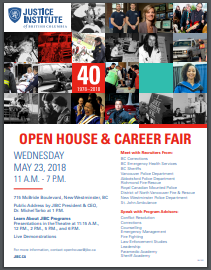 Last updated April 27, 2018