Open Access
Free and unrestricted online availability is how Open Access (OA) was defined at the Budapest Open Access Initiative by leaders in the Open Access Movement
OA has the following characteristics:
It applies to royalty-free literature, for which authors receive no direct financial compensation.
It is free of price barriers, such as subscriptions, licensing fees, pay-per-view fees.
It is generally considered to also be free of permission barriers, such as most copyright and licensing restrictions (although OA does require that proper attribution of works be given to authors).
(CARL - Canadian Association of Research Libraries)
The Open Access Movement has been steadily gaining momentum and has moved beyond the initital inclusion of journals to all formats and types of material which are referred to as OERs. OERs (Open Educational Resources) have been defined by the Hewlett Foundation as ...
"teaching, learning, and research resources that reside in the public domain or have been released under an intellectual property license that permits their free use and re-purposing by others. Open educational resources include full courses, course materials, modules, textbooks, streaming videos, tests, software, and any other tools, materials, or techniques used to support access to knowledge."
BCcampus is tasked with co-ordination of a project, supported by BC Ministry of Advanced Education, for the creation of open textbooks providing flexible and affordable access to higher education resources in BC.
For more information:
Contact Christine-Louise Dujmovich (JIBC Library), or
View these YouTube videos from the OGRepository:
Creating OER and Combining Licenses Part 1
Creating OER and Combining Licenses Part 2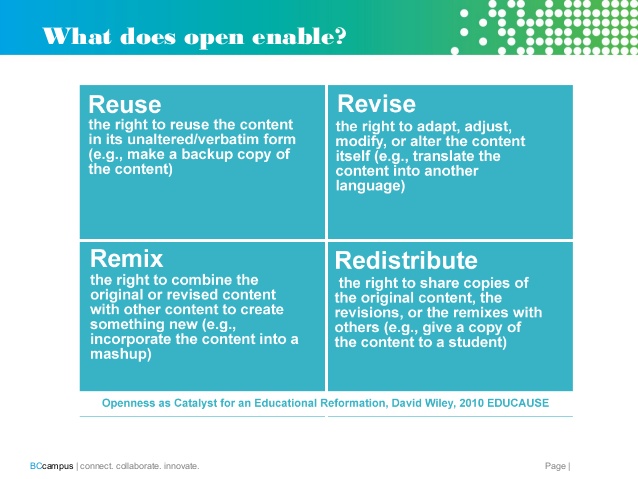 Before using copyrighted material in your course, first determine how "open" the material is. Are usage limitations imposed by the copyright owner? Can you make changes to the material?
---
Open Access Resources
BCcampus Open Education Self-Publishing Guide
A reference for individuals or groups wanting to write and self-publish an open textbook.This guide provides details on the preparation, planning, writing, publication, and maintenance of an open textbook.
Last updated February 20, 2018