My Online Courses
Log into your online course with Blackboard 9, the JIBC eLearning software.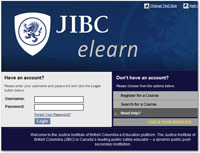 Get help for eLearning on our website, including video tutorials and browser check.
If you're having problems logging in, check your course email or contact Student Services at 604.528.5590 or toll-free 1.877.528.5591 (Monday-Friday, 8:30 a.m.-4:00 p.m.).
Last updated December 3, 2013