Cadets from four Chinese delegations complete their international education at JIBC
Students receive a customized education in the latest best practices in justice and public safety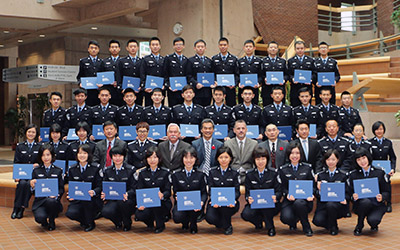 Cadets from the People's Public Security University of China are among the latest to complete their customized international public safety education at JIBC
Over the past several weeks, Justice Institute of British Columbia (JIBC) welcomed 135 law enforcement cadets from four Chinese public safety educational institutions. Each delegation completed a customized program to meet their specific educational needs.
For example, the latest class of recruits from Jiangsu Justice Police Advanced Vocational School completed a comprehensive overview of the Canadian corrections system this week. Over the last 10 days, the 31-member delegation received insights into the latest practices in a wide range of relevant subjects including offender management and supervision, correctional security and emergency response, adult custody programs and services, institute staffing and management, and community corrections.
A second delegation from the People's Public Security University of China (PPSUC) also completed their international education this week. This group follows the first group of cadets who completed their training earlier this year. The latest 40-member delegation received insights in a number of law enforcement subjects including crisis negotiations, leadership and decision making, crime scene investigations, criminal case investigations, community policing, economic crime and incident command systems.
In mid-October, a 37-member delegation from Nanjing Forest Police College gained insights into a number of law enforcement subjects ranging from community policing and economic crime to crime scene investigation, international police cooperation and incident command systems.
The first group of students from Hainan Vocational College of Political Science and Law also completed their international training in mid-October. The education of the 27-member delegation included overviews of the Canadian justice system, court process, and corrections system; leadership and strategic planning; community policing, economic crimes, and criminal investigations and intelligence.
"It has been rewarding to hear from the Chinese cadets and their instructors how meaningful and relevant they have found the education they've received from our experienced instructors at JIBC," said Ken Davies, Manager of International Programs in JIBC's Office of International Affairs. "It has been a privilege to provide an international education to more than 400 students from nine different public safety institutions in China this year. We greatly appreciate the support and the growing level of trust we've gained over the years with our partners in China to make this possible, and we look forward to welcoming more students in the new year."
About Justice Institute of British Columbia
Justice Institute of British Columbia
(JIBC) is Canada's leading public safety educator with a mission to develop dynamic justice and public safety professionals through its exceptional applied education, training and research. JIBC offers internationally recognized
education that leads to certificates, diplomas, bachelor's degrees and graduate certificates
; exceptional continuing education for work and career-related learning and development; and customized contract training to government agencies and private organizations worldwide. Our education
provides professionals with the knowledge, skills, and abilities to excel at every stage of their career
contributing to safer communities and a more just society.
Last updated February 11, 2016