Counsellor Lisa Dion presents course on aggression in play therapy Nov. 1 & 2
Based on her book, Aggression in Play Therapy: A Neurobiological Approach for Integrating Intensity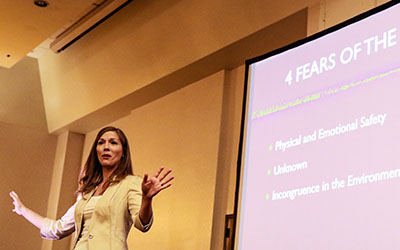 Lisa Dion is a teacher, clinical supervisor, author, coach and entrepreneur. She is a Licensed Professional Counsellor, Registered Play Therapy Supervisor and is at the cutting edge of her field creating new and innovative models of play therapy with children and youth.
Lisa is the author of Aggression in Play Therapy: A Neurobiological Approach for Integrating Intensity. The book is the basis for a two-day course she will be presenting at the Justice Institute of British Columbia's New Westminster campus on Nov. 1 and 2, 2018.
Based in Colorado, Lisa is the founder and Executive Director of the Play Therapy Institute of Colorado and the creator of Synergetic Play Therapy. She is also a Certified Gestalt Therapist, Parent Educator, Level II EMDR Practitioner and Senior Certified Facilitator of the Demartini Method™.
Here, Lisa describes aggression in play therapy, her approach for addressing it and what participants can expect from her presentation in New Westminster.
For the uninitiated, could you first explain what play therapy is and how it works?
Play therapy is defined by the Association for Play Therapy as "the systematic use of a theoretical model to establish an interpersonal process wherein trained play therapists use the therapeutic powers of play to help clients prevent or resolve psychosocial difficulties and achieve optimal growth and development." More simply put, child play therapy is a way of being with the child that honours their unique developmental level and looks for ways of helping in the "language" of the child – play.
How did you first become interested in play therapy and its techniques?
I was introduced to play therapy during my internship experience in 2002 during my graduate studies. I was hooked immediately by the power of play therapy and the transformation I was observing in children.
Your new book is Aggression in Play Therapy: A Neurobiological Approach for Integrating Intensity. In a nutshell, could you explain the focus of your book?
With an understanding of aggressive play based on brain function and neuroscience, this book provides therapists with a framework to work authentically with aggressive play, while making it an integrative and therapeutic experience for the child.
Through the lens of neuroscience and interpersonal neurobiology, therapists are taught how to integrate the intensity experienced by both the child and the therapist during aggressive play in a way that leads towards greater healing and integration. The book explains the neurological processes that lead kids to dysregulation and provides therapists with tools to help their clients facilitate deep emotional healing, without causing their own nervous system to shut down.
Topics covered include: embracing aggression; understanding the nervous system; understanding regulation; developing yourself as an external regulator; authentic expression; setting boundaries; working with emotional flooding; supporting parents during aggressive play.
How did you come to realize there was a need to address the issue of aggression in play therapy?
As a supervisor since 2005, aggression in the playroom was one of the most common topics that my supervisees would ask questions about. This along with my own experience in the playroom led me to research and discover answers as there was and is very little information out there in the field on this topic.
How would you define "aggression" in such a context? Can it include rough play or does it need to be something more extreme?
Aggression shows up in the playroom in many forms – through a child's language, a child's behaviors and in the play itself. In the play, aggression can present itself through the choice of toys the child uses and also what the child chooses to do with the toys in the room. It can involve the therapist in the play or the therapist can be set up to be a witness of the aggressive play the child is creating.
What might such aggression signify for a therapist?
I help therapists understand aggression from the perspective of the nervous system and an extension of the dysregulated state the child is experiencing inside. This information is then used to inform the therapist about how to engage the child to help make the aggression a therapeutic experience.
If this is from a neurobiological perspective does that mean there are physical changes in the child's brain that cause this aggressive behaviour? Could you elaborate?
Aggressive behavior arises as a result of the perceived challenging thoughts, emotions and sensations that a child is experiencing in any given moment. Learning about how perception works and what the brain is scanning the environment for to determine whether or not there are threats is crucial for making aggressive play therapeutic.
How could observing such behaviour from a neurobiological perspective assist the work of a play therapist?
It is the understanding of what is driving the behavior that assists play therapists. When a play therapist can understand what is happening in the brains and bodies of their child clients, they can move away from labeling the behavior as "bad" or needing it to stop. Instead it allows the therapist to begin to work towards helping the child regulate the intensity rather than shutting it down or trying to make it go away.
Could you provide an anecdote of such a case and the difference it made in working with the child and in the child's behaviour?
My book, Aggression in Play Therapy: A Neurobiological Approach for Integrating Intensity, starts off with one such anecdote, which I think is also a nice introduction to the purpose of the workshop. Here it is:
The swords were flying. I was dodging and blocking the blows, but I was barely able to keep up with this 5-year-old's swings. I was beginning to feel overwhelmed. In this whirlwind of energy, all my brain was registering was "Protect myself, protect myself, protect myself." Seconds later, I felt something hard hit my head. The pain brought me back to the moment, and I immediately knew it wasn't the sword he was using. Without the ability to block out an authentic response, I sank to the floor with tears welling in my eyes and blurted out, "I'm scared." This little boy, who was a witness and victim of domestic violence, looked into my eyes, put down his weapons and crawled into my lap. He began to gently rock back and forth, saying, "Me, too. Me, too." In that moment, I finally understood his world. I felt it at my core.
In my session with Carlos, when the sense of overwhelm got to be too much, I lost my ability to stay present. I emotionally flooded and checked out. It was the blow to my head that brought me back. The shock and pain was so intense that I wasn't able to block out my authentic response, and when Carlos saw me sink to the floor with tears in my eyes, he knew that I was being real and that I understood his fear. In fact, that moment changed the course of our therapy together. His trauma play integrated and diminished significantly, and the relationship between us deepened to a level that I had not been expecting. The experience also led me into a deep inquiry regarding aggressive play, boundaries, and therapist self-care.
Could you describe what and how you'll be presenting at your two-day workshop at JIBC on Nov. 1 and 2?
During this two-day course, I am going to help therapists understand aggressive play from a neurobiological-biological perspective. I will use neuroscience, interpersonal neurobiology and Synergetic Play Therapy as a framework to help us explore how to work with the intensity in a way that supports nervous system regulation for both the client and the therapist. The course will be both didactic and experiential as it is important to me that students walk away with an embodied experience of the theoretical teachings. This course has been referred to as a "game changer" for therapists who are immersed in working with trauma, intensity and aggression in their sessions.
Lisa Dion presents, "Aggression in Play Therapy: a Neurobiological Approach," a two-day course on Thursday and Friday, Nov. 1 and 2, 2018 at JIBC's New Westminster campus. For details and to register, click here.
About Justice Institute of British Columbia
Justice Institute of British Columbia (JIBC) is Canada's leading public safety educator with a mission to develop dynamic justice and public safety professionals through its exceptional applied education, training and research. JIBC offers internationally recognized education that leads to certificates, diplomas, bachelor's degrees and graduate certificates; exceptional continuing education for work and career-related learning and development; and customized contract training to government agencies and private organizations worldwide. Our education provides professionals with the knowledge, skills, and abilities to excel at every stage of their career contributing to safer communities and a more just society.
Last updated November 5, 2018