Discovering Applied Research at JIBC
One Day. Four Applied Research stories.
JIBC Faculty, staff and students, as well as members of the research community, spent February 21 trying to find their ideal research match at the 3rd Annual JIBC Discovering Applied Research Day, coordinated by the Centre for Applied Research.
Keynote speaker Dr. Ross Paul, former university president, research advocate, and a member of the JIBC Research Ethics Board, provided inspirational and sage advice to those interested in pursuing research studies. In addition to the keynote, there were sessions dedicated to profiling unique applied research initiatives being conducted across the Institute; Speed Research sessions that challenged researchers to describe their projects in two minutes and one slide; and a display of research posters that provided a snapshot of applied research projects conducted by faculty, staff, and research associates.
Four researchers whose posters were on display took the time to share insights into the underlying motivations, findings and implications of their applied research projects.
Designing effective simulations for Primary Care Paramedic students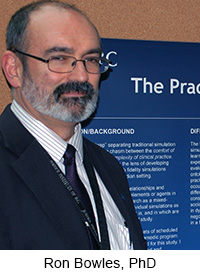 Principal researcher: Ron Bowles, PhD, Associate Dean, JIBC Centre for Applied Research
"My research looks at using high fidelity simulations to develop critical judgment in paramedic recruits.
One of our paramedicine instructors told me that when students move from the classroom to the field, it's like they step off a cliff. There's such a gap between the comfort of the classroom, and the complexity of real-world practice. We've always been good at teaching technical competence in the classroom. But we need to get better at preparing students for the complex situations they'll experience in the field.
We have used high fidelity simulations to train paramedic recruits, and we're using them even more since I started doing the study. But how good are they? If we have a high fidelity mannequin and an actor, we can definitely re-create certain aspects of the field environment, but are we capturing the social and interpersonal aspects, which are so important? We need to create simulations that present fuzzy scenarios that require clinical competence, as well as clinical judgment and discernment.
For the study, we created simulations that are more like the situations students find themselves in when they go out on practicum. In one scenario we created, an elderly palliative care patient is in the process of dying. He's been staying at home, but his family can't cope. So one family member calls an ambulance to take dad to the hospital, but other family members are upset about this. When the crew arrives, the actual medical diagnosis is simple. It becomes much more about negotiating with everybody on the scene about what to do. In that particular scenario, you have six or seven people in varying degrees of anxiety running around inside a realistic apartment, and that's hard to do in a typical classroom setting. But it's the kind of call that paramedics run into all the time, so we need to prepare our students for those situations.
In terms of measurement, because these high fidelity simulations have fuzzier outcomes, they're harder to measure in terms of quantifiably proving that one simulation is better than another for preparing students for the field. But, anecdotally, students are telling us that after participating in them, they feel better prepared when they go out into the field."
How safe are protective vests for police dogs?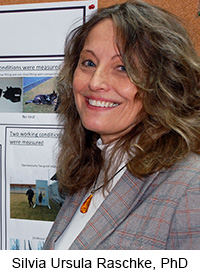 Lead researcher: Silvia Ursula Raschke, PhD, Principal Investigator, CREATE, BCIT Technology Centre
"My research is about whether it's safe for police dogs to wear protective vests.
Handlers have been reluctant to put protective vests on their dogs, out of concern that their dogs will overheat. They know that when they wear their own vests, they get very warm. Manufacturers counter that dogs perspire through their tongues and their paws, so it really shouldn't be an issue. So there were differing opinions out there that nobody had actually tested.
There was a related procurement question to answer, because there are different vests available on the market at different price points. The police wanted to know if there is a difference in performance between the less expensive vests that come in small, medium, and large, or whether it was better for the well-being of the dogs to buy the more expensive, custom-fitted vests. The RCMP Police Dog Service Training Centre in Innisfail Alberta helped us design the trials, which had to be realistic from the perspective of the police officers as well the dogs. We ran the tests in the Lower Mainland of BC with the Vancouver Police Department and the RCMP.
We found that the vests did not make a significant impact on the dogs' core temperature. So we answered that question, but we gained some unexpected and interesting insights. In veterinary medicine, there is an established threshold core temperature for dogs, and if you go above that you are supposed to start worrying about taking steps to cool the dog down. Our [police] dogs went over that threshold temperature in almost every single case, but they were still fresh and, in fact, they weren't even fully exerting themselves. Of course, veterinary medicine standards are geared towards typical pet dogs and not athletes like our police dogs! This was exciting because we may have broken some new ground in terms of veterinary medicine.
We also observed that the dogs' core temperature dropped back down to normal fairly quickly after activity stopped. It may relate to how fit the dogs are. It's directly relatable to what we know about elite human athletes. So we were able to show that these dogs perform the same way that elite level athletes do.
I've been on the road talking to police dog handlers and letting them know what we found. Their responses have been very positive - they're relieved to know that it's okay for their dogs to wear protective vests. We also have a whole range of new research questions, like 'What is the best way to train police dogs? And what is the best way to cool them down after exertion?'"
Re-evaluating the RCMP's Physical Activity Readiness Evaluation (PARE)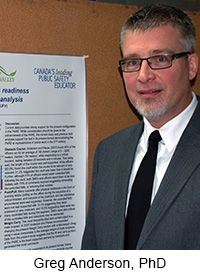 Lead researcher: Greg Anderson, PhD, Dean, JIBC Office of Applied Research & Graduate Studies
"I presented this research in Australia in October. We set out to validate the Physical Activity Readiness Evaluation (PARE) which is used by the RCMP. We wanted to know if the test is an appropriate evaluation of the physical demands of the job.
We started with subject matter experts - fitness advisors and trainers who actually run the testing and do the fitness training. They gave us ideas on the research methods and about who might participate. We then surveyed 844 RCMP police officers immediately after they completed their PARE during their physical examinations. We asked them about their experience and if the PARE reflected their duties. We compared what they told us about their duties to the discrete components of the evaluation itself.
Our study was quite supportive of the evaluation, and found that officers supported the test and the majority of the items contained within it. While we did recommend a few potential adjustments, those recommendations were to stimulate a broader, national dialogue about bona fide occupational testing in the police communities across Canada The PARE is very similar to the POPAT that we use in British Columbia. Alberta, Ontario, Quebec and the Maritimes each do their own, but they are all very similar. So if we have a global conversation we could probably come up with a single test that everyone agrees with."
Use of reflective journaling to help police recruits learn to deal with mental health consumers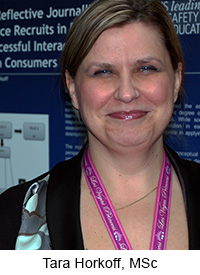 Lead researcher: Tara Horkoff, MSc, Instructor, JIBC Centre for Graduate Studies & Academic Planning
"My study looked at use of journaling to help police recruit learn to deal with mental health consumers.
A few years ago, I took a course called Mental Health and the Law, at Simon Fraser University. That inspired me to get my Master's degree in Criminology and Criminal Justice. While working at the JIBC Police Academy I decided to develop journaling assessments. It helps students reflect on what they've done, and build insights that they can access later on when they're dealing with real situations on the job. In policing, we develop critical thinking through critical incident training which involves a lot of dialogue. But none of that has involved personal journaling.
Mental health is such a sensitive social issue today, and it's more and more common for police officers to encounter mental health consumers. Journaling can help recruits enhance their skills in dealing with those situations. It's a chance for them to stop and think about how to protect themselves from using too much force and also how to protect the individual from having too much force used against them.
We asked the recruits in our study to journal about four separate incidents that occurred during their first block of field training. In their journal entries, we asked them to describe what happened and what they did. And we asked them to consider what they learned and what they hoped to take away from that situation. We could definitely see the evolution in their critical thinking skills as they reflected on those incidents.
I would definitely recommend continued use of journaling as a learning tool. A lot of debriefing happens in police recruit training. But journaling is different for a couple of reasons. One is that it documents the learning. And the other reason, which is important, is that it gives recruits a degree of personal control over their learning. They need to think for themselves about what they're learning, and how they're learning as well as what they need to continue to learn in order to grow. That's different from typical learning scenarios where instructors lecture and simply tell recruits the information. And this means instructors become more facilitators of that process rather than traditional teachers or lecturers."
Last updated October 3, 2014