Dr. Irving K. Barber announces $250,000 donation to JIBC
JIBC to develop Aboriginal Justice Worker Certificate with donation
A special day for more than 200 graduating students at JIBC's Winter 2012 Convocation was made even more exceptional with an announcement from Dr. Irving K. (Ike) Barber. After receiving an Honorary Doctor of Laws degree at the January 18 Convocation, Dr. Barber announced he's donating $250,000 to JIBC to develop a new Aboriginal Justice Worker Certificate.
Developed in response to student, employer, and community feedback, and given the over-representation of Aboriginal Peoples in the criminal justice system, the certificate program will support Aboriginal communities to better address the complex issues surrounding probation, parole, recidivism, incarceration, and offender re-entry into the community.

JIBC President Jack McGee gave thanks for the "very generous donation that Dr. Barber has honoured us with and entrusted us with." President McGee said, "We look forward to the next few years of developing this program so it can become a significant feature of JIBC that leads its graduates into further studies, including Aboriginal leadership diplomas and degrees."
Graduates of the Aboriginal Justice Certificate program, scheduled to launch in September 2012, will be eligible for careers within Aboriginal governance, BC Corrections, Sheriffs, Police, resource sectors, human services, and municipalities. Dr. Barber's donation will also fund an academic bridging program for Aboriginal students and student awards.
Dr. Barber, widely recognized in BC for his business leadership and philanthropy, explained in his Convocation speech why he is supporting JIBC. "It is only within the last two or three years that I became closely associated and closely understood what this institution [JIBC] does," said Dr. Barber. "I have looked at many institutions since I so-called retired, and I tell you this: that there is none of them stronger and more closely associated with their students than this institution."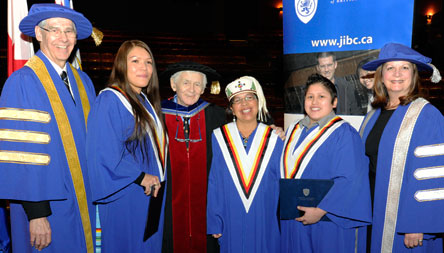 Pictured above (left to right): JIBC President Jack McGee, Aboriginal Leadership Certificate graduate Rochelle Moore, Dr. Irving K. Barber, Aboriginal Leadership Certificate graduates Brenda Isaac and Jada Sam, and JIBC Board of Governors Chair Mary Manning.
Watch the presentation of Dr. Barber's honorary degree, and his address to the convocation audience:
Last updated October 24, 2014