Honorary Degrees to be Presented at May 19 Convocation
Former BC Premier Bill Bennett and entrepreneurs and philanthropists Sergio Cocchia & Wendy Lisogar-Cocchia to receive Honorary Degrees
Former BC Premier Bill Bennett, OBC, and local entrepreneurs and philanthropists Sergio Cocchia and Wendy Lisogar-Cocchia have been named as honorary degree recipients by JIBC President Jack McGee. The Honorary Doctor of Laws Degrees will be conferred at JIBC's May 19 Convocation, to be held at the Michael J. Fox Theatre in Burnaby, starting at 10:00 am.
The honorary degrees affirm and recognize their long-standing contributions to the economic growth and development of the province, as well as the significant support to a number of charitable causes.
"Each of these worthy recipients has in their own inimitable way, contributed to the quality of life enjoyed by residents of British Columbia," said President McGee. Their vision, perseverance and unwavering commitment to making a difference in the community have helped to enhance individual, social, and economic well-being."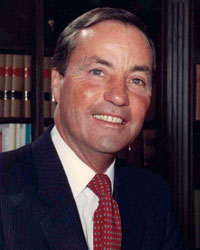 Bill Bennett became Premier of the province in 1975 and continued to serve in that role until August 1986. During his tenure, the decisions were made to invest in bringing the 1986 World Exposition (Expo 86) to Vancouver; to build the Coquihalla Highway, which enhanced transportation between the Lower Mainland and the interior of the province; to launch SkyTrain in the Lower Mainland; and to build the iconic BC Place stadium. He also played a significant role in the establishment of JIBC, as in 1978 he signed an order-in-council that designated the Justice Institute of British Columbia as a provincial post-secondary institution.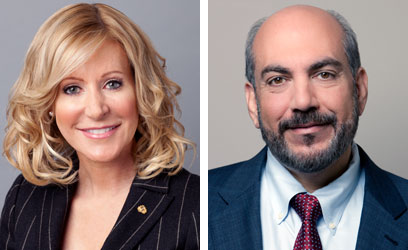 Entrepreneurs Wendy Lisogar-Cocchia and husband Sergio Cocchia are a formidable business team that has dedicated significant time and effort supporting numerous charitable causes. Of note, is their visionary quest to build a $34 million dollar Pacific Autism Family Centre, where the families of those diagnosed with autism can access professional assistance, treatment plans and other resources required to prepare themselves for the challenges ahead.
"Bill Bennett, Sergio Cocchia and Wendy Lisogar-Cocchia have demonstrated exemplary leadership in the fields of politics, business and community service, and have been staunch advocates for JIBC," said Mary Manning, Chair of the JIBC Board of Governors. "It is our privilege to confer honorary degrees on each of these outstanding individuals, whose contributions to British Columbia should serve as an inspiration to all who value the quality of life we enjoy in the province."
Last updated April 10, 2014