Innovation in education
JIBC wins national award for ExPod simulation tool
Pictured above (from left to right): Helena Fehr, CNIE Director of Media Technology; Marcela Hernandez and Tannis Morgan from JIBC; and Bettina Brockerhoff-Macdonald, Co-Chair of the 2011 CNIE-RCIÉ Awards Festival
JIBC has won an Award of Excellence from the Canadian Network for Innovation in Education (CNIE). JIBC's ExPod virtual simulation learning tool was selected for the award in the CNIE-RCIÉ Awards Festival, for "Excellence and Innovation in Overall Use of Technology for Learning and Teaching."
CNIE, a national organization of professionals committed to excellence in innovative education, presented the peer-adjudicated award to JIBC's Tannis Morgan and Marcela Hernandez at the CNIE-RCIE Conference held in May at Hamilton's McMaster University.
ExPod is a custom-built, virtual simulation learning tool housed in JIBC's Dr. Donald B. Rix Public Safety Simulation Building. ExPod helps to bring critical incidents to life by introducing real-world simulations into training and exercise programs. Because participants can access ExPod enables via the web, it provides the flexibility to deliver immersive, interactive and scenario-based training exercises anytime, anywhere.
"As someone who is well informed on the current state of public safety technologies, I can confidently say ExPod stands well above the crowd," says Timothy Collins, Managing Director of Visual Analytics for Command, Control and Interoperability Environments (Vaccine) at Purdue University. "Any time a tool can engage the participants to the point that they are fully immersed and working to solve a situation, learning becomes ingrained and communities become safer. ExPod does this time and again. An added, but huge benefit in this time of critical fiscal management is its ability to provide training to responders anytime, anywhere, and on a budget."
The "Excellence and Innovation in Overall Use of Technology for Learning and Teaching" award is given to a project that demonstrates unique and innovative use of learning technologies to change learning systems in the future. The award is presented to an individual, team, or enterprise that has responsibility for developing and/or implementing a unique and innovative learning product or service using existing technology in a new way or using a new form of technology application.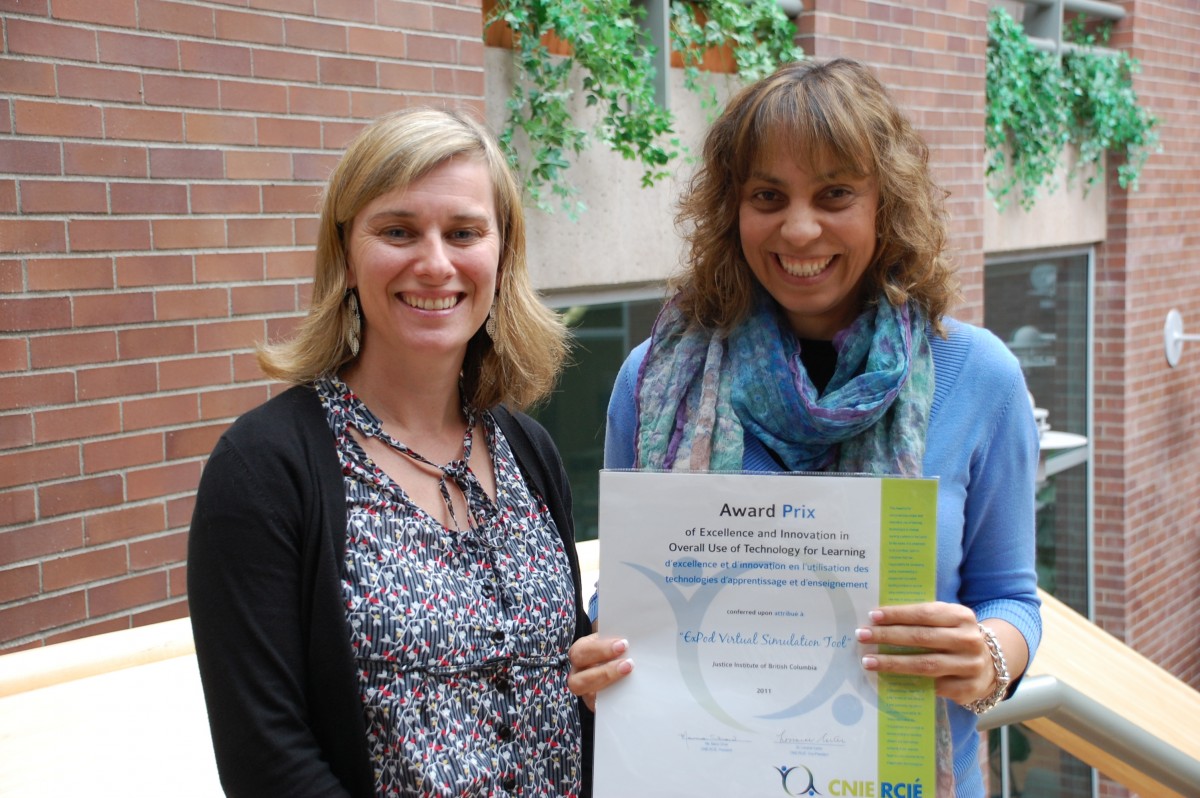 JIBC's Tannis Morgan and Marcela Hernandez
Last updated October 3, 2014