JIBC celebrates the accomplishments of its students and honorary degree recipient at Winter Convocation
Nearly 600 graduates recognized for completing JIBC certificates, diplomas, bachelor's degrees and graduate certificates; Dr. Andrew Saxton receives honorary degree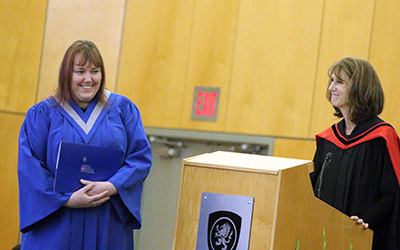 Community Care Licensing Advanced Specialty Certificate graduate Tammy Hull (left) crosses the stage at JIBC's Winter Convocation held at the New Westminster Campus

Justice Institute of British Columbia (JIBC) celebrated the achievements of its graduates during Winter Convocation held at the New Westminster Campus on February 12, 2015.
Nearly 600 JIBC graduates were recognized for completing their studies in public safety programs that lead to certificates, diplomas, bachelor's degrees and graduate certificates.
Among those graduating at Convocation was Tammy Hull, the first graduate of JIBC's Community Care Licensing Advanced Specialty Certificate, and Shauntelle Nichols, the recipient of the Bob Hull Memorial Award, which recognises the academic achievement of the top graduating student from the Law Enforcement Studies Diploma.
"I am proud of your accomplishments at the Justice Institute of British Columbia," said JIBC President and CEO Dr. Michel Tarko in his Convocation Address to all the graduates. "Serving in a public safety career is a calling and today you are on your way to answering that call. I encourage each of you to serve in your respective roles with conviction, knowing that what you do makes a difference, to the individuals you will help, and the communities you will support."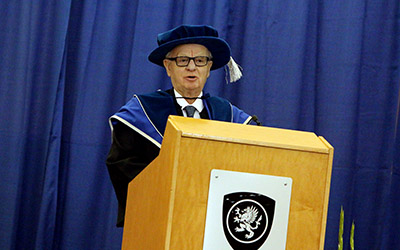 Dr. Andrew Saxton addresses graduates at JIBC's Winter Convocation held on February 12, 2015
The contributions of a B.C. business leader and philanthropist was also recognized at Convocation. JIBC conferred a Doctor of Laws degree, honoris causa, upon Dr. Andrew Saxton Sr., recognizing his leadership, public service and many contributions to the community and the economy in B.C.
In his acceptance speech, Dr. Saxton encouraged students to seek out opportunities to contribute and address the needs of others and the community.
"Each of you already has a strong sense of service and a willingness to help our communities," said Dr. Saxton. "Your graduation today is proof of that dedication and commitment. These are honourable professions each of you have chosen, addressing important needs, current and future, in our society. I wish you great success in all your future endeavours!"
About Justice Institute of British Columbia
Justice Institute of British Columbia (JIBC) is Canada's leading public safety educator. Our specialized programs lead to certificates, diplomas, bachelor's degrees and graduate certificates in Law Enforcement, Investigations, Emergency Management, Firefighting, Paramedicine, Sheriffs, Corrections, Counselling, Leadership, Mediation, Conflict Resolution, and Driver Training. JIBC also provides customized contract training to domestic and international governments, agencies and organizations. Our approach to education emphasizes applied learning and realistic simulations, delivered by instructors who are experienced practitioners. Our students' work makes communities safer, and helps people in need, throughout B.C., across Canada and around the world.
Last updated January 12, 2016