JIBC Fire & Safety Division announces recent appointments
Deputy Director of JIBC's Fire & Safety Division appointed to international accreditation committee
The Fire & Safety Division (FSD) at the Justice Institute of British Columbia (JIBC) is pleased to announce a number of recent industry and internal appointments.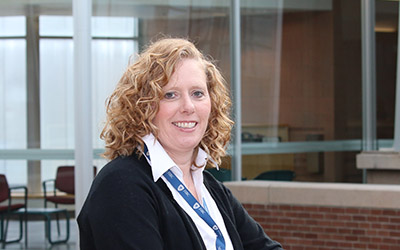 Charlene Jordan-Jones, JIBC's Fire & Safety Division Deputy Director, has been appointed to the Committee on Accreditation of the National Board on Fire Service Professional Qualifications. The committee oversees the Pro Board Fire Service Professional Qualifications System, which is used internationally to certify candidates to the National Fire Protection Association's (NFPA) professional qualification standards.
Jordan-Jones will serve a three-year term reviewing compliance of fire service organizations with accreditation criteria, participating in on-site reviews of organizations' testing and certification processes, and providing input on the Pro Board's operations.
"Her appointment serves as a further example of our staff's professional reputation and recognition of the quality educational programming provided by JIBC," said Peter Grootendorst, JIBC's Fire & Safety Division Director. "The Pro Board and its member entities will undoubtedly benefit from her extensive background in fire service training, certification, accreditation, and her proven commitment to continuous quality improvement."
New Appointments in Fire & Safety Division
The Fire & Safety Division is also pleased to announce the appointment of Dave Wallack as Program Manager of JIBC's Fire Fighter Programs.
Wallack brings a wealth of knowledge and experience to the Fire & Safety Division from his 27 years with Vancouver Fire & Rescue Services (VFRS). In addition to serving as a frontline firefighter, throughout his career at VFRS, he served as an Instructor Trainer/Mentor; Acting Lieutenant of Emergency Planning/Training; Coordinator of the CPR/First-Aid Program; Assistant Chief, Emergency Medical Services; Chief Training Officer; and Assistant Chief, Recruitment and Fire & Life Safety Education.
Wallack's last years with his department included spending six years at the senior management level managing staff, programs, budgets, reports and liaising with other emergency and non-emergency agencies. Wallack is also a certified BC Public School Teacher and has spent many years involved as a community sports coach.
Among his responsibilities at JIBC will be evaluating FSD's vocational firefighting programs and implementing any updates to meet the BC Fire Service Minimum Training Standards as outlined in the Structure Firefighters Competency and Training Playbook.
JIBC's Fire & Safety Division is also pleased to announce that Richard White is the successful candidate for the Coordinator/Instructor position in JIBC's Fire Fighting Technologies Certificate Program.
White brings over 26 years of experience in the fire service and has held a number of senior positions throughout his career including Suppression Captain and Chief Training Officer. He also brings a passion for excellence in education, mentoring and coaching. In addition to a bachelor's degree in education, he played and coached in professional sports at the national and international level, and continues to be involved as a coach in community sports.
"We are very pleased to have both Dave and Richard join the Fire & Safety Division," said Grootendorst. "They both bring a wealth of experience that will serve our students and the fire service well through our educational programs."
About Justice Institute of British Columbia
Justice Institute of British Columbia (JIBC) is Canada's leading public safety educator. Our specialized programs lead to certificates, diplomas, bachelor's degrees and graduate certificates in Law Enforcement, Investigations, Emergency Management, Firefighting, Paramedicine, Sheriffs, Corrections, Counselling, Leadership, Mediation, Conflict Resolution, and Driver Training. JIBC also provides customized contract training to domestic and international governments, agencies and organizations. Our approach to education emphasizes applied learning and realistic simulations, delivered by instructors who are experienced practitioners. Our students' work makes communities safer, and helps people in need, throughout B.C., across Canada and around the world.
Last updated May 19, 2015