JIBC hosts seminars about post-traumatic stress disorder among first responders
Experts from the Canadian and U.S. military share their insights about PTSD and initiatives to eliminate the stigma of mental illness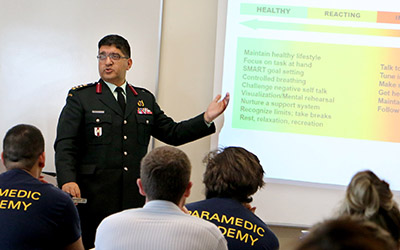 Canadian Forces Colonel Rakesh Jetly speaks to JIBC Paramedic Academy students at the New Westminster Campus
Justice Institute of British Columbia (JIBC) has hosted special presentations highlighting some of the latest insights and treatments about post-traumatic stress disorder (PTSD) and other mental health issues among veterans, soldiers, and first responders.
In mid-April, JIBC welcomed Colonel Rakesh Jetly of the Canadian Forces to the New Westminster Campus to speak to students in JIBC's Primary Care Paramedic Program.
Col. Jetly, Senior Psychiatrist and Mental Health Advisor to the Canadian Forces Surgeon General, discussed the various initiatives in the Canadian military to support mental health resilience of its personnel.
Demystifying mental illness has been an important focus over the years. Its Road to Mental Readiness program, for example, aims to provide evidence-based mental health education for personnel throughout their career and deployment cycles. The goal is to increase mental health literacy by decreasing the stigma of mental illness and any barriers to care.
He noted there is no clear line between someone who is mentally healthy or mentally ill. There is a continuum of mental health, and when it comes to responding to adverse or stressful events, everyone responds in their own way. He noted it is okay to feel distressed – or not – after an event is over. But if someone feels they need additional support, it is more effective to reach out sooner rather than later.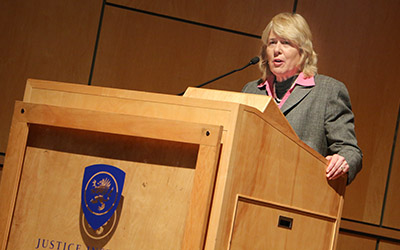 Dr. Elspeth Cameron Ritchie, a retired U.S. Army Colonel and long-time forensic psychiatrist speaks to first responders at the New Westminster Campus
In late March at the New Westminster Campus, law enforcement personnel and other first responders had a chance to listen and speak with Dr. Elspeth Cameron Ritchie, a retired U.S. Army Colonel, and long-time forensic psychiatrist specializing in military and veterans' issues.
The event was coordinated with the Vancouver office of the U.S. Consulate-General and part of a national speaking tour where Dr. Ritchie spoke with Canadian military personnel, clinical staff, law enforcement professionals, and other first responders located across the country.
Among the key points in her presentation, Dr. Ritchie encouraged law enforcement professionals and other first responders to learn more about PTSD to remove the stigma associated with it, and know how to evaluate for it in themselves and others.
"I think it's important for police officers, firefighters and emergency medical personnel to acknowledge that they can be impacted by what goes on around them and pay attention to any symptoms of post-traumatic stress disorder," she said. "PTSD is treatable, and like anything in medicine, the earlier it's treated, usually the more effective the treatment is."
Highlighting her experience addressing PTSD in the U.S. military, she also noted the importance of realizing that each person responds to stress and traumatic events differently.
"In some people, the symptoms go away on their own, and some people have a relapsing course. PTSD is unique in that it can be triggered by sights, sounds or smells. You might be doing fine for a while, and then you smell or see something and that takes you back into a traumatic event."
In her presentation, Dr. Ritchie noted that there is a wide range of options available today to treat PTSD from traditional psychotherapy and medication to acupuncture, yoga, meditation, art therapy, horseback riding and even training service dogs. In her experience with U.S. veterans, she noted that a treatment program incorporating a number of different therapies is often the most effective for those with PTSD.
"If the first treatment doesn't work, then try something else, because I've been struck that it's not one treatment fits all. Some people will go get treatment, and will get medication, but don't like it, and say it doesn't work and give up. But there is a wide range of options out there. They may not be treatments by themselves, but, combined, they help a lot," she said. "We may not have all the rigorous trials for each treatment, but there is evidence to say it works. Some people will swear by them."
About Justice Institute of British Columbia
Justice Institute of British Columbia (JIBC) is Canada's leading public safety educator developing dynamic justice and public safety professionals through its exceptional applied education, training and research. JIBC offers internationally recognized education that leads to certificates, diplomas, bachelor's degrees and graduate certificates; exceptional continuing education for work and career-related learning and development; and customized contract training to government agencies and private organizations worldwide. Our education provides professionals with the knowledge, skills, and abilities to excel at every stage of their career contributing to safer communities and a more just society.
Last updated June 1, 2015