JIBC Primary Care Paramedic Program going paperless
PCP students can now access reference materials on tablets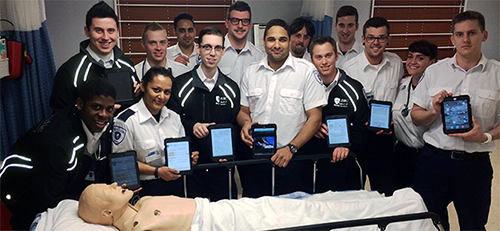 Students in the Primary Care Paramedic Program at JIBC's Chilliwack campus were the first class to have their required reference materials available in a digital format (Submitted photo)
Student teams in the Primary Care Paramedic (PCP) program at JIBC don't have to lug around heavy binders anymore. The program has taken a significant step closer to being completely paperless.
Last month, teams of four PCP students in Chilliwack started using Apple iPad mini tablets to access their required reference materials. The change was part of an overall redesign of the PCP program and eliminated the need to carry printed materials, particularly 2,400 pages of course materials required per team that describes more than 400 paramedic simulations practiced as part of the curriculum.
"It was costly and time consuming to produce the hard copy binders and difficult to keep organized and up-to-date if changes were required," said Michelle Finlay, Program Manager of JIBC's PCP Program in Chilliwack. "Introducing the electronic tablets has been an innovative and cost-effective way to make the program efficient and environmentally sustainable."
Students at the Chilliwack campus were the first to use the tablets as part of their PCP training. The rest of the tablets will be rolled out in April for PCP student teams at other locations in B.C. where JIBC's PCP training is conducted.
This project is part of a donor-funded mobile learning initiative and is one of several mobile learning pilots underway at JIBC. The donation allowed for the purchase of a class set of iPads and licenses for the PCP pilot.
JIBC's Centre for Technology Enabled Learning and Teaching (TELT) and staff from JIBC Technology Services and the JIBC Library worked together with PCP program staff to implement the changes by compiling electronic versions of all the necessary reference materials and loading the devices with the required applications needed for the updated PCP program.
Students can access their regular course textbooks, and also access a wider range of interactive resources as part of their training. In addition to accessing simulation videos, new applications have been added to allow students to interact and share resources with other students, JIBC staff and instructors, and access a wide range of paramedical applications.
Hard copy paramedic competency records will still be needed as part of accreditation requirements with the Canadian Medical Association. But, the program is in the process of creating digital versions of the forms.
"JIBC is the most prominent provider of paramedic training in B.C. because we are constantly updating our program to reflect the latest best practices in paramedicine and innovations in education," said Kathy Harms, Director of the Health Sciences Division at JIBC. "This is the latest change aimed at ensuring we're delivering the best training possible to support our students' professional goals."
More information about the PCP program is available on the JIBC Paramedic Academy website.
Paperless PCP Program By the Numbers
| | |
| --- | --- |
| 19,200 | Total number of pages of reference materials that no longer have to be copied, hole punched and put into binders at the Chilliwack campus |
| 2,400 | Total number of pages in one paramedic simulation reference pack that no longer need to be printed |
| 25 lbs. | Total weight of the reference materials that students no longer need to carry |
| 0.75 lbs. | Weight of an Apple iPad mini |
About Justice Institute of British Columbia
Justice Institute of British Columbia (JIBC) is Canada's leading public safety educator. Our specialized programs lead to certificates, diplomas, bachelor's degrees and graduate certificates in Policing, Investigations, Emergency Management, Firefighting, Paramedicine, Sheriffs, Corrections, Counselling, Leadership, Mediation, Conflict Resolution, and Driver Training. JIBC also provides customized contract training to domestic and international governments, agencies and organizations. Our approach to education emphasizes applied learning and realistic simulations, delivered by instructors who are experienced practitioners. Our students' work makes communities safer, and helps people in need, throughout B.C., across Canada and around the world.
Last updated July 16, 2014