JIBC provides international training for Chinese police recruits
Recruits from the Jiangsu Police Institute and the Jiangxi Police College spend seven days at JIBC learning about Canadian law enforcement best practices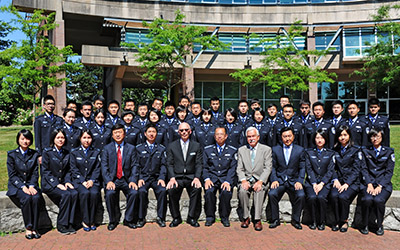 Justice Institute of British Columbia (JIBC) recently welcomed its first class of Chinese police cadets from the eastern Chinese provinces of Jiangsu and Jiangxi, providing them with a wide-ranging introduction to Canadian law enforcement training and best practices.
More than 50 cadets in the final stages of their police training spent seven days at JIBC learning about criminal investigations, forensics and police management. They also gained hands-on training with the Vancouver Police Department's Emergency Response Team, Dog Squad and Motorcycle Drill Team.
Following completion of their training, the cadets received an Introduction to the Canadian Justice System certificate.
This latest class of Chinese law enforcement officers is the largest to date. Over the past few years, JIBC has provided training for a number of Chinese delegations. Last year alone, JIBC conducted more than a dozen two-week training programs that introduced more than 300 Chinese officials to best practices in Canadian policing and corrections.
"Expanding access to our programs internationally is a priority," said Dr. Michel Tarko, President and CEO of JIBC. "We have continued to deepen relationships in China to support the modernization of the country's law enforcement and justice system. We value the confidence we have gained with our partner agencies and organizations in China, and the support of Canadian officials in facilitating this important work."
"This latest group of Chinese police officers is one of the youngest we have received to date," said Mike Trump, Dean of the School of Criminal Justice & Security and the Office of International Affairs at JIBC. "We've taken very seriously the responsibility of helping the next generation of law enforcement officers learn about the best practices in the field, knowing that our education and training has already made meaningful contributions in China."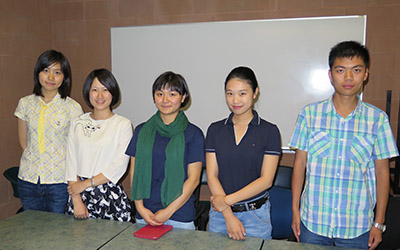 Chinese police recruits Wang Jue (left), Qiu Yue, Yu Ping, Zhan Yixuan, and Tan Fuyuan are among the more than 50 students that gained a broader understanding of law enforcement during their education and training at JIBC
The recruits were eager to share their enthusiasm about the opportunity to learn first-hand about the Canadian justice and law enforcement at JIBC.
Tan Fuyuan, 19, one of the recruits from Jiangxi Police College, said, "I have learned a lot about the differences between Chinese police and Canadian police. It has been very useful. I hope to come here to study again."
Zhan Yixuan, 19, from Jiangxi Police College, added, "We gained so much. Studying here is very different than in China. For example, in class, our teachers would ask, 'Who wants to answer the question?' But here, the teachers ask, 'Who has questions to ask me?' Here, we can always talk to the teacher and they answer our questions very well."
Yu Ping, 21, also from Jiangxi Police College, said, "We also learned a lot about Canadian daily life. There are so many beautiful places here. We all hope to come back again."
The recruits will return to China with a broader understanding of law enforcement that they can apply as they further their training.
Wang Jue, 19, a recruit from Jiangsu Police Institute, said she gained an appreciation for the importance of having effective communication skills as a police officer.
"A student asked a teacher, 'How do you gain trust from the public?' and he said from communication. Police officers must communicate very well, and I think that's a key point. We can apply this in China."
Qiu Yue, 20, another recruit from Jiangsu Police Institute, was impressed by a basic law enforcement principle by Sir Robert Peel: "The police are the public and the public are the police."
"I think it is very applicable for us as police officers in China. I think this is a principle we should all keep in mind when we do our police work."
About Justice Institute of British Columbia
Justice Institute of British Columbia (JIBC) is Canada's leading public safety educator. Our specialized programs lead to certificates, diplomas, bachelor's degrees and graduate certificates in Policing, Investigations, Emergency Management, Firefighting, Paramedicine, Sheriffs, Corrections, Counselling, Leadership, Mediation, Conflict Resolution, and Driver Training. JIBC also provides customized contract training to domestic and international governments, agencies and organizations. Our approach to education emphasizes applied learning and realistic simulations, delivered by instructors who are experienced practitioners. Our students' work makes communities safer, and helps people in need, throughout B.C., across Canada and around the world.
Last updated October 7, 2014