JIBC Rail Tank Safety Course Ahead of its Time
Mitigating Rail Tank accidents involving hazardous materials
It was a bad summer for rail disasters around the world and those tragic outcomes confirm the critical necessity of the specialized training offered in the Rail Tank Car Specialist program at Justice Institute of British Columbia (JIBC).
In July, nine rail accidents took place internationally in: Canada, Spain, Pakistan, Russia, France, the U.K. and Switzerland.
The 23rd International Railway Safety Conference is taking place at The Fairmont Hotel in Vancouver, Oct. 6-11, and topics that have made headlines in the past few months were on the table. These include safety issues around the proximity of rail lines to communities, safety culture, innovations in technology, train marshalling, cab ergonomics and more.
The JIBC's Rail Tank Car Specialist program is offered three times per year at our Maple Ridge Campus where participants train on an 11-car train derailment prop. The course focuses on ensuring that railway employees and first responders are as prepared as they can be to mitigate the consequences of railway incidents that involve hazardous materials.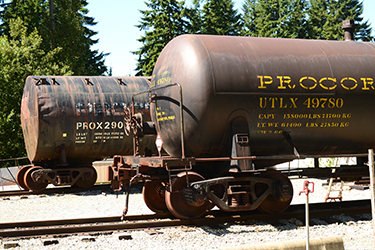 Rail Tanks at the Maple Ridge Fire & Safety Division site
The potential risks of transporting hazardous materials were highlighted with tragic results in Lac Mégantic in early July. Dean Colthorp, Director of Fire Fighter Programs, says that emergencies of this complexity and magnitude can be extremely difficult to prepare for.
"There are so many levels of response to be coordinated between mutual aid partners when an incident occurs," says Colthorp. These could include the railways, their specialized Hazmat Response teams, local fire departments, emergency management professionals and other first responders, all levels of government, Transport Canada and others.
Some of the regulated cargo that railways carry includes: industrial chemicals and fuels for making plastics, clothing, and the things people use every day.
CN typically runs two classes a year at the JIBC's Maple Ridge campus to train its own team of responders as well as contractors and fire fighters.
This five day advanced specialty course is offered in partnership with the Railway Association of Canada (RAC). The course is aimed at railway employees, emergency response contractors and municipal responders. First responders, who have already taken a HazMat technician course as a pre-requisite, learn how to manage the response to railway disasters, fires and chemical spills where rail tank cars are involved as well.
Participants learn about:
Tank car types (low and high pressure tank cars)
fittings and safety devices
the nature and extent of damage to rail cars
the scope of hazardous materials
choosing the right type of personal protective equipment
safely transferring materials from one railcar to another
confining spills, venting and burning, and neutralizing
and in general, to plan and implement a safe and effective emergency response.
An introduction to the Incident Command System (ICS) is also covered within the training that takes place in a classroom and via scenarios using the on-site props.
Rail Transport
According to the RAC, rail shipments of oil in Canada are up an estimated 140,000 in 2012, or a whopping 28,000 percent from the 500 car loads in 2009.
This past June, the RAC Dangerous Goods team, (with assistance from its member railways, CN, CP and BNSF) used the Maple Ridge site to deliver a 40-hour course. Personnel learned how to respond to a railway incident involving dangerous goods. They were assisted by employees from Canexus, Midland Valve, and Transport Canada. Thirty-three students from across Canada attended and passed the written and practical aspects of the specialized curriculum.
There are benefits to rail transport. One rail car can hold the equivalent of three to four trucks. Rail containers are significantly more robust than vehicles, and they aren't moving on public roads and highways.
The Railway Association of Canada (RAC) collaborates with communities through a formal relationship with the Federation of Canadian Municipalities (FCM). Together, they've created guidelines for urban development in proximity of railways.
While the controversy about the safety of rail tank transportation of dangerous goods is an ongoing discussion, statistics from the Bureau of Explosives in their 2012 annual report indicate that more than 2.47 million carloads of hazardous materials were safely delivered last year.
Last updated August 22, 2016