JIBC to recognize business leader and philanthropist with honorary degree
Andrew Saxton Sr. to be recognized at JIBC Convocation in February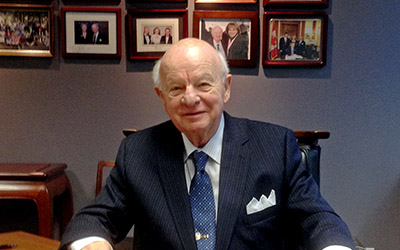 Justice Institute of British Columbia (JIBC) will present a Doctor of Laws degree, honoris causa, to Andrew Saxton Sr., Chairman of King George Financial Corporation, during the Institute's Winter Convocation on February 12, 2015.
"It's with the greatest respect that we recognize Andrew Saxton with an honorary degree for his leadership, public service and many contributions to the community and the economy in B.C., across Canada and internationally," said Dr. Michel Tarko, JIBC President and CEO. "He is an exemplary leader whose legacy of public service will inspire future leaders being educated at JIBC."
Having been orphaned since the age of 14 in Hungary, Andrew Saxton arrived in Canada in 1947 when he was 18. He became a Canadian citizen in 1953 and has since played a significant role in the social, cultural and economic lives of Canadians.
From his first job as an accountant with Canada Packers Ltd., Andrew Saxton went on to establish a number of significant enterprises and serve on the board of 18 businesses throughout his career. Among his many executive posts, he was co-founder and served as an Executive Vice-President and Director at Laurentide Financial Corporation, which became a major economic generator with more than 2,000 employees and 220 branch offices. He also served as President of Elite Insurance Company, President of The Granville Island Hotel & Marina, Director of the British Columbia Television Broadcasting System Ltd. and Chairman of Grouse Mountain Resorts Ltd. He was a founding member of all these companies.
Early examples of his visionary leadership made him the founder of the Grouse Mountain Skyride in 1966, which led to the skiing and hiking resort becoming one of the largest privately-owned tourist attractions in B.C. with more than 1.2 million visitors annually.
He was also a member of the syndicate that won the first license for a private television station in Canada in 1960. The group formed what would become BCTV, which is now part of the Global TV chain, and remains one of the province's most influential media and news organizations.
As Chairman of King George Development Corporation, he was instrumental in having Metro Vancouver's SkyTrain rapid transit system extended to Surrey's King George Station in 1994, with his company donating both cash and land to the project.
Alongside his successful business career, Andrew Saxton has made significant contributions to health and charitable organizations in B.C. and around the world. Among his many affiliations, he has served as President of the BC Heart Foundation; Director of the Canadian Heart Foundation in Ottawa; Executive Board Member of the World Heart Federation based in Geneva, Switzerland; Convocation Founder of Simon Fraser University; and one of the founders and President of ENDEAVOUR, a charity auction.
He has been recognized for his many contributions, receiving the Distinguished Service Award from the Heart and Stroke Foundation of Canada; the Queen's Golden and Diamond Jubilee Awards; and the Honorary Alumnus Award from the University of British Columbia.
At the Convocation Ceremony, in addition to recognizing Andrew Saxton, President Tarko and representatives from the JIBC Board of Governors will recognize nearly 600 graduates that have completed certificates, diplomas and degrees at JIBC.
The ceremony will be held in the gymnasium at the New Westminster Campus beginning at 1:30 p.m.
About Justice Institute of British Columbia
Justice Institute of British Columbia (JIBC) is Canada's leading public safety educator. Our specialized programs lead to certificates, diplomas, bachelor's degrees and graduate certificates in Law Enforcement, Investigations, Emergency Management, Firefighting, Paramedicine, Sheriffs, Corrections, Counselling, Leadership, Mediation, Conflict Resolution, and Driver Training. JIBC also provides customized contract training to domestic and international governments, agencies and organizations. Our approach to education emphasizes applied learning and realistic simulations, delivered by instructors who are experienced practitioners. Our students' work makes communities safer, and helps people in need, throughout B.C., across Canada and around the world.
Last updated January 12, 2016