JIBC to recognize service of law enforcement leader with honorary degree
Former RCMP Deputy Commissioner for Canada West to be recognized at JIBC's Winter Convocation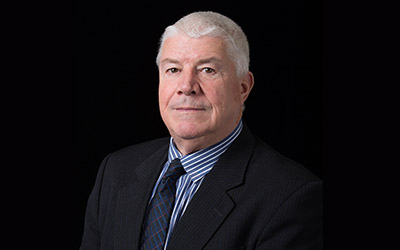 Justice Institute of British Columbia (JIBC) will present a Doctor of Laws degree, honoris causa, to Gary Bass, a 39-year veteran in the Royal Canadian Mounted Police (RCMP), in recognition for his community service and contributions to justice and public safety in Canada.
"It's with great respect and appreciation that we recognize with an honorary degree Mr. Bass' steadfast commitment to safer communities and a more just society," said Dr. Michel Tarko, JIBC President and CEO. "He served as an exemplary leader in policing, having led initiatives that reduced crime and also championed real change in the criminal justice system. And since retiring from policing, he has continued to lead a paradigm shift in what law enforcement can do to protect our communities. His dedication to public service is an inspiration to many future leaders educated at JIBC."
Originally from New Brunswick, Mr. Bass served with the RCMP in various communities across Canada. He spent much of his career involved in investigations solving major crimes, homicide, terrorism and organized crime. He was an expert court witness on topics including drug trafficking, organized crime, outlaw motorcycle gangs and major case management.
He retired in May 2011 as the RCMP's Deputy Commissioner for Canada West, responsible for RCMP operations in the three northern territories, the Prairie Provinces and British Columbia. Prior to that, he was the Commanding Officer for "E" Division RCMP (BC) and Deputy Commissioner for Pacific Region, BC and the Yukon.
He has been recognized throughout his career receiving two Commissioner's Commendations, one from the U.S. Under Secretary to the Navy; two Commanding Officer's Commendations; the RCMP Long Service Medal; Queen's Jubilee Medal; Officer of the Order of Merit for Police Forces; and two awards from the Lieutenant Governor of British Columbia: Outstanding Service and Meritorious Service.
Mr. Bass continues to serve his community as a member of the Board of Governors of Commissionaires BC; a board member of VisionQuest Recovery Society; a board member for the Canadian Centre on Substance Abuse and a member of the Board of Governors for E-Comm 9-1-1, Emergency Communications for British Columbia.
He also served on the Premier of British Columbia's Blue Ribbon Panel for Crime Reduction, which made recommendations to the Premier last year on changes to the criminal justice system in B.C.
The 2016 Winter Convocation ceremony will recognize more than 500 graduates who have completed certificates, diplomas and degrees at JIBC, with more than 600 graduands, family and friends in attendance at the New Westminster Campus.
About Justice Institute of British Columbia
Justice Institute of British Columbia (JIBC) is Canada's leading public safety educator with a mission to develop dynamic justice and public safety professionals through its exceptional applied education, training and research. JIBC offers internationally recognized education that leads to certificates, diplomas, bachelor's degrees and graduate certificates; exceptional continuing education for work and career-related learning and development; and customized contract training to government agencies and private organizations worldwide. Our education provides professionals with the knowledge, skills, and abilities to excel at every stage of their career contributing to safer communities and a more just society.
Last updated February 22, 2016