JIBC to Recognize Westbank First Nations Chief with Honorary Degree
Chief Robert Louie LL.B to be honoured at JIBC Convocation on February 6, 2014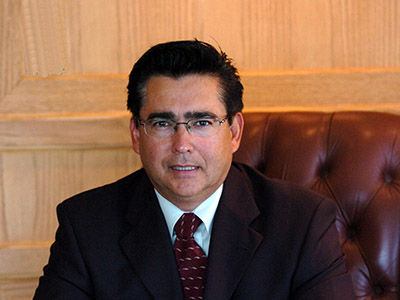 Justice Institute of British Columbia (JIBC) will present Westbank First Nations Chief Robert Louie with a Doctor of Laws degree, honoris causa, during the Institute's winter Convocation on February 6, 2014.
"This honorary degree recognizes Chief Louie's longstanding commitment to improving the social and economic well-being of First Nations communities in B.C. and across the country," said Dr. Michel Tarko, JIBC President and CEO. "He has been an exemplary leader whose legacy of service will inspire future leaders being educated at JIBC."
Chief Louie's law career began in 1984 and has evolved into a leadership role in aboriginal governance. He was a member of the Task Group of the First Nations Summit and was involved in B.C. treaty negotiations representing the Chiefs of B.C. for four years.
Chief Louie has served on numerous other boards and advisory bodies, including the National Aboriginal Economic Development Board, First Nations Finance Authority Inc., All Nations Trust Company, Kelowna Chamber of Commerce, United Native Friendship Society, and the Premier's Advisory Council of Aboriginal Affairs. He has also served as a Governor at the University of British Columbia and was a member of the President's Advisory Council for UBC Okanagan.
Chief Louie has been the recipient of many awards and recognitions over the years including the Queen Elizabeth Diamond Jubilee Medal in 2012. He was appointed as an Officer to the Order of Canada in 2006.
In addition to his leadership role at the Westbank First Nation, he is chairman of the First Nations Land Advisory Board, chairman of the Peace Hills Trust and owner of several successful businesses in the Kelowna area.
At the Convocation ceremony, in addition to recognizing Chief Louie, President Tarko and JIBC Board Member and Governor Sukminder Virk will confer certificates, diplomas and degrees on 425 graduates from JIBC's programs.
The ceremony will be held in the gymnasium at the New Westminster campus beginning at 1:30 p.m.
About Justice Institute of British Columbia
Justice Institute of British Columbia is Canada's leading public safety educator. Our specialized programs lead to certificates, diplomas, bachelor's degrees and graduate certificates in Policing, Investigations, Emergency Management, Fire fighting, Paramedicine, Sheriffs, Corrections, Counselling, Leadership, Mediation, Conflict Resolution, and Driver training. JIBC also provides customized contract training to domestic and international governments, agencies and organizations. Our approach to education emphasizes applied learning and realistic simulations, facilitated by instructors who are experienced practitioners. Every year, approximately 30,000 students study at JIBC. Their work makes communities safer, and helps people in need, throughout B.C., across Canada and around the world.
Last updated January 12, 2016