JIBC reports excellent results from Asian trade mission
New partnerships initiated and existing arrangements extended
JIBC reports excellent results from participating in the BC Jobs and Trade Mission to Asia, led by Premier Christy Clark. JIBC initiated new partnerships and extended a number of existing arrangements with institutions in Asia, which will lead to an increase in the number of justice and public safety learners studying with the Institute.
"Having the Premier lead such a strong delegation, focused on both business and education and including JIBC, sent a powerful message to our partners that the Government of BC supports the Institute and welcomes students," said JIBC President Jack McGee.
Just prior to the trade mission, JIBC signed a multi-year agreement with the Singapore Armed Forces for delivering a Diploma in Health Sciences (Emergency Medical Services). The Institute also met with the Hong Kong Fire Services Department Ambulance Command to review and commit to continuing ongoing partnership, which is now entering its 20th year.
In China, during the trade mission, it was confirmed that JIBC will conduct a strategic analysis for Beijing Emergency Medical Services and is planning to host several study tours from justice bureaus and police organizations from four cities. "It was gratifying to learn that earlier graduates of JIBC courses from China are implementing changes in how they manage offenders as a result of studying here," said JIBC Vice President, Academic Michel Tarko, who took part in the trade mission.
JIBC International Programs Manager Ken Davies, who also participated in the trade mission, said that the role of the BC government was pivotal and noted that its participation "adds to the outstanding support the Institute receives from Canadian Trade Commissioners."
The mission continued to India where JIBC delegates met with a number of post-secondary institutions and agencies to explore future partnership opportunities, including the Tata Institute of Social Sciences (TISS), which has been invited to collaborate on JIBC's Rural Disaster Resilience applied research project.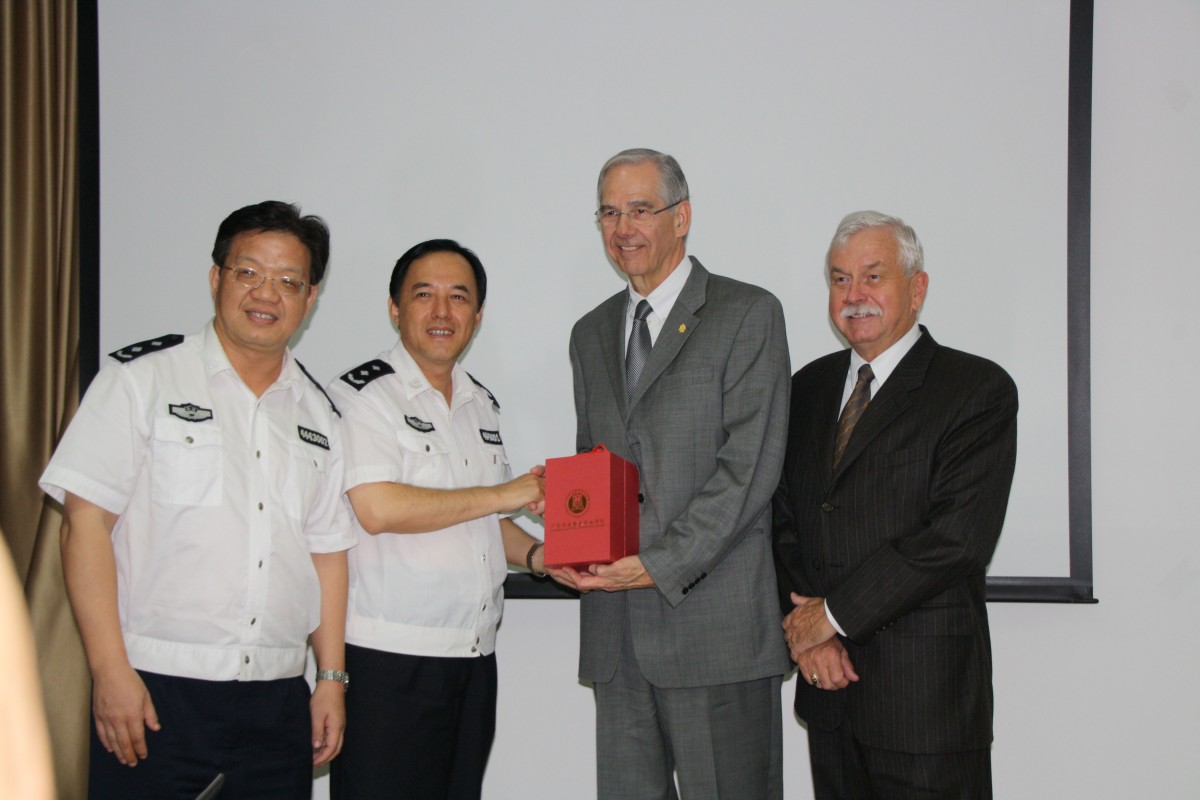 Guangdong Department of Justice General Office Division Chief Mr Huang Yi presents a gift to JIBC President Jack McGee, flanked by Deputy Division Chief Mr. Zhang Zhou, and JIBC International Programs Manager Ken Davies.
Last updated April 10, 2014