JIBC Spring Convocation celebrates graduation of "community heroes"
Accomplishments of more than 360 JIBC graduates and JIBC's honorary degree recipient recognized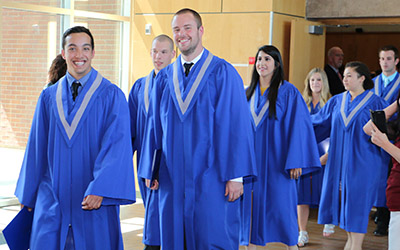 Justice Institute of British Columbia (JIBC) celebrated the achievements of its graduates and its honorary degree recipient at the Spring Convocation held at the New Westminster Campus June 11, 2015.
More than 360 graduates were recognized for completing their studies in public safety programs that lead to certificates, diplomas, bachelor's degrees and graduate certificates.
"Congratulations to you, your family and your friends for the accomplishments we are celebrating today," said Dr. Michel Tarko, President and CEO of JIBC. "Serving in a public safety career is a calling and today you are answering that call. I encourage each of you to serve in your respective roles with conviction, knowing that what you do makes a difference, to the individuals you will help and the communities you will support."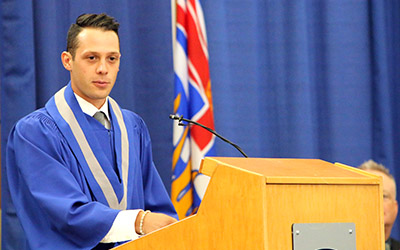 Benjamin McKiernan gives the student address at the 2015 Spring Convocation
Among the students recognized was Benjamin McKiernan, a graduate from the Law Enforcement Studies Diploma program who gave the student address at Convocation. In his remarks, he noted that JIBC was the third post-secondary institution he had attended, but the first where he had completed his studies. The close community of students, the instructors' dedication to help every student succeed, and the opportunity to be among a broad range of public safety professionals on campus all contributed to giving him the focus and drive to complete his studies.
"It is a great feeling to come to school every day and be surrounded by like-minded people who are going to make a huge difference in their communities in their chosen careers," he said. "Each person graduating today has chosen to attend a school and be part of programs that are dedicated to saving and enriching lives, and resolving conflict in the world. I couldn't be happier to call the people here my peers."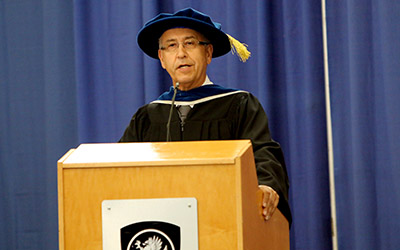 JIBC honorary degree recipient Dr. Mark Schonfeld addresses JIBC graduates at the 2015 Spring Convocation
A life-long dedication to community service was also recognized at the Spring Convocation with the conferral of an honorary degree on Dr. Mark Schonfeld, who served as a medical leader, educator and health care advocate throughout his career.
In his address to all the graduates, he encouraged everyone to:
Embrace change for change creates great opportunity;
Learn from others and one's own experiences;
Act professionally in all areas of one's work;
Be the best in whatever you do; and
Take time with your families, friends and supporters.
Calling JIBC graduates "superheroes," Dr. Schonfeld recognized the important work of everyone serving in public and community safety.
"Whether you are a first responder, or behind the scenes in the call centres, emergency management, providing leadership in conflict resolution, in the health sciences, or the many other areas that you have been trained in, all your work is of tremendous value to our communities," he said. "You are truly our communities' heroes."
About Justice Institute of British Columbia
Last updated September 11, 2015