JIBC staff to provide medical care in Haiti
The recent earthquake in Haiti has created an overwhelming demand for medical assistance. JIBC School of Health Science staff members and licensed paramedics Kathy Harms (Primary Care Paramedic Coordinator) and Kevin Sanford (Program Director, Contract Programs) will travel to Haiti to provide aid as members of the Canadian Medical Assistance Team.
The CMAT is a Non-Governmental Organization that provides medical relief to the victims of disaster and conflict. Kathy's involvement with the CMAT dates back to 2005, when she traveled to the Kashmir region of Northern Pakistan after a devastating earthquake that hit the area in October that year. She worked as a member of a medical team that assisted with staffing the DART hospital, and also traveled into remote villages providing primary medical care to the rural residents of the area.
In 2007 she was the Team Leader on a deployment to the Gopalganj region of Bangladesh after the area was inundated with unusually heavy flooding. Travelling by boat to remote villages, she again provided primary medical care to the local residents.
"The devastation experienced by the earthquake victims in Haiti is as incomprehensible as that witnessed during my earlier deployments to Pakistan and Bangladesh'" says Kathy. "I am honoured to have been invited to lead the team and make a meaningful contribution to the Haitian community in this time of need."
Given her experience and demonstrated capability, she was recently approached to lead a team set to deploy to the Leogane region of Haiti, where CMAT has established a field hospital. Not only did she agree, but she also managed to convince her colleague Kevin to join her team and assume responsibility for team logistics - camp conditions, patient transport and acquisition of supplies. Needless to say, the final days prior to their deployment on January 29th have been a whirlwind of activity.
The CMAT hospital has been seeing between 200-300 patients per day, and performing 10-12 surgeries, so in addition to Kathy & Kevin, the team will comprise:
1 Orthopedic surgeon (also from Vancouver)
1 Anesthetist
1 Emergency Physician
2 Nurse Practitioners
2 Registered Nurses
2 Medics
CMAT has been working very closely with Canadian Forces (CF) personnel in Haiti, and in fact, later this week the CF Field hospital will be deployed to share the team's cozy little soccer field in Leogane. Given the JIBC's role in training CF medics at its Chilliwack campus, there is some comfort in having them as neighbors!
"As staff members at the JIBC School of Health Sciences, our primary responsibility is to prepare students to respond in times of crisis during their careers; though hopefully, not on as large a scale as seen in Haiti," says Kevin. "This trip will provide an invaluable learning experience and make us better prepared to meet the learning needs of future students."
You can follow team updates on the CMAT website. If you would like to make a donation to support Kathy or Kevin's efforts, please put either (or both) their names in the note when you make an online donation. This ensures that the donation goes specifically to fund their team
The team has also created a Facebook page, "Canadian Medical Assistance Teams", which you can visit to see updates and photos.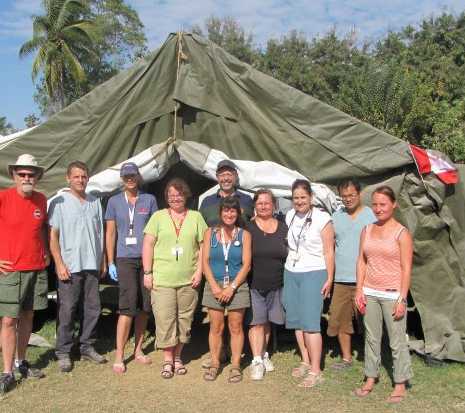 Last updated August 27, 2013