JIBC supports student-centred mobile learning at the Universidad de Guadalajara
JIBC's Centre for Teaching, Learning and Innovation (CTLI) is delivering a customized professional development program for more than 300 professors in Mexico
One of two groups of professors at the Universidad de Guadalajara participating in the professional development program co-developed with JIBC (Flickr photo by Alan Levine under a Creative Commons license)
Helping university professors in Mexico integrate student-centred mobile learning strategies into their courses is the goal of a customized professional development program delivered by the Justice Institute of British Columbia (JIBC).
In July, 315 professors from Mexico's Universidad de Guadalajara (UdeG) began a six-month program co-developed between UdeG and JIBC's Centre for Teaching, Learning and Innovation (CTLI).
Through the program, professors will learn about leading practices in student-centred learning and have a hands-on opportunity to experiment and creatively use various technologies and applications they feel would be applicable in the courses they teach.
JIBC was approached by UdeG to create the program at the recommendation of Dr. Tony Bates, an international leader in the planning and management of e-learning and distance education.
"It's exciting for us to be developing and implementing this kind of program that really draws on JIBC's strengths in developing and applying technology to enhance student access to post-secondary education," said Tannis Morgan, Associate Dean of JIBC's CTLI. "It's wonderful to partner with the staff in the CIEP at the Universidad de Guadalajara, who are committed to innovation at their large public university comprised of 15 campuses and over 100,000 students."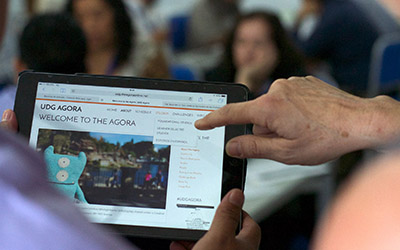 (Flickr photo by Alan Levine under a Creative Commons license)
Participants started the program with a week of face-to-face sessions in July at UdeG's Center for Arts, Architecture and Design. From mid-August to October, they will be challenged to integrate into their courses some of the strategies and tools they've learned with the support of JIBC facilitators. They will also gather student feedback that will be shared with other participants in the program when they meet face-to-face again in December to showcase what they have developed.
For the duration of the program, UdeG professors will be participating in various challenges and interacting with other project participants through various media, including the program's website: The UDG Agora.
While UdeG professors will advance their own skills and knowledge through the program, one of the additional goals of the initiative is to develop open educational resources available for other faculty in other institutions.
To follow the developments in the program, visit the project's website or follow @AgoraUdG on Twitter or use the hashtag #UdGAgora.
About Justice Institute of British Columbia
Justice Institute of British Columbia (JIBC) is Canada's leading public safety educator with a mission to develop dynamic justice and public safety professionals through its exceptional applied education, training and research. JIBC offers internationally recognized education that leads to certificates, diplomas, bachelor's degrees and graduate certificates; exceptional continuing education for work and career-related learning and development; and customized contract training to government agencies and private organizations worldwide. Our education provides professionals with the knowledge, skills, and abilities to excel at every stage of their careercontributing to safer communities and a more just society.
Last updated January 12, 2016