JIBC welcomes Advanced Education Minister to New Westminster Campus
Minister Wilkinson tours JIBC's unique training facilities and observes the applied training and research conducted at the Institute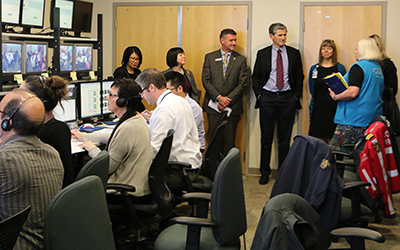 During his visit, Advanced Education Minister Andrew Wilkinson visited the Dr. Donald B. Rix Public Safety Simulation Building where an applied research exercise was being conducted
Justice Institute of British Columbia (JIBC) welcomed BC Advanced Education Minister Andrew Wilkinson to the New Westminster Campus February 3.
This was the Minister's first visit to JIBC's main campus where students from B.C. and around the world receive their hands-on public safety education, and where the Institute's applied research is conducted.
The Minister was hosted by Dr. Michel Tarko, JIBC President and CEO; Dr. Laureen Styles, Vice-President, Academic; Peter Kingston, Vice-President, Finance and Administration; and Jim McGregor and Kim Logan, Vice-Chairs of JIBC's Board of Governors.
During his tour, Minister Wilkinson had the opportunity to participate in an applied research exercise focused on the psychosocial dimensions of an earthquake response. The exercise was held at the Dr. Donald B. Rix Public Safety Simulation Building and was the fifth conducted by JIBC's Simulation Training and Exercise Collaboratory (SIMTEC).
Minister Wilkinson also had the opportunity to meet Primary Care Paramedic (PCP) students immersed in an electrocardiogram (ECG) training simulation and was introduced to the specialized simulation training equipment used by PCP students in JIBC's Paramedic Academy.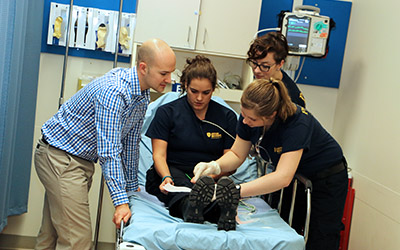 The Minister also spoke with JIBC Police Academy instructors and observed the training of recruits from five different police agencies in the province. The 15 women and 20 men in Class 147 are in their 10th week of a nine-month Police Studies Certificate recruit training program.
"It was great to meet with students and observe first-hand a simulated exercise," said Minister Wilkinson. "Students at the Justice Institute of British Columbia receive high-quality education and training for future careers in public safety and the justice sectors."
"We are very proud of our unique role in providing applied education, training and research that leads to vital public safety careers," said President Tarko. "It was a pleasure to introduce Minister Wilkinson to some of the examples of our education and research that supports safe, healthy and prosperous communities in B.C. where we live, work and play."
About Justice Institute of British Columbia
Justice Institute of British Columbia (JIBC) is Canada's leading public safety educator. Our specialized programs lead to certificates, diplomas, bachelor's degrees and graduate certificates in Law Enforcement, Investigations, Emergency Management, Firefighting, Paramedicine, Sheriffs, Corrections, Counselling, Leadership, Mediation, Conflict Resolution, and Driver Training. JIBC also provides customized contract training to domestic and international governments, agencies and organizations. Our approach to education emphasizes applied learning and realistic simulations, delivered by instructors who are experienced practitioners. Our students' work makes communities safer, and helps people in need, throughout B.C., across Canada and around the world.
Last updated June 12, 2019