JIBC welcomes Dr. Jeffrey Schiffer to the Office of Indigenization
New Program Director to manage services and initiatives to support Aboriginal students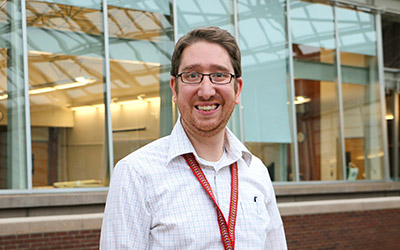 Justice Institute of British Columbia (JIBC) is pleased to welcome Dr. Jeffrey Schiffer as the new Program Director of the Office of Indigenization.
"Dr. Schiffer brings broad experience in supporting Aboriginal communities through his applied work with individuals, groups and communities," said Dr. Laureen Styles, Vice President Academic. "We're delighted to have him join us as we move forward our strategic goal of supporting the education and training needs of Aboriginal learners."
Through JIBC's Indigenization Plan, the Institute has continued to strengthen its commitment to understanding the historical, social and economic conditions of Indigenous populations, and foster respect and understanding of the cultures, traditions, languages and protocols of Indigenous people. Various initiatives and activities have been launched over the years to realize the Plan's overarching objectives, which include ensuring culturally appropriate education and services are available for Aboriginal learners.
"It's an honour to join JIBC and have the opportunity to support the advancement of the Institute's Indigenization Plan," said Dr. Schiffer. "I'm particularly excited about the completion of JIBC's new Aboriginal Gathering Place, which will serve as a welcoming space for teaching, learning, exchange and innovation."
Prior to joining JIBC, Dr. Schiffer served as a Special Projects Officer at the Vancouver Aboriginal Child and Family Services Society. He was responsible for the award-winning Culturally Relevant Urban Wellness Program, which he co-founded and supervised.
His previous experience includes work with the Tsawwassen First Nation, various roles at The Earth Institute at Columbia University, and the International Center for Cooperation and Conflict Resolution.
He is currently a member of the Board of Directors of The Focus Foundation and The Federation of BC Youth in Care Network, and is also an instructor in the Aboriginal Focusing-Oriented Therapy & Complex Trauma Certificate Program, which is offered through JIBC's School of Health, Community and Social Justice.
Of Métis ancestry, Dr. Schiffer was born and raised on Coast Salish territory in Vancouver. He holds a bachelor's degree in Anthropology from UBC and a Master of Arts and PhD in Anthropology and Education from Columbia University.
About Justice Institute of British Columbia
Justice Institute of British Columbia (JIBC) is Canada's leading public safety educator with a mission to develop dynamic justice and public safety professionals through its exceptional applied education, training and research. JIBC offers internationally recognized education that leads to certificates, diplomas, bachelor's degrees and graduate certificates; exceptional continuing education for work and career-related learning and development; and customized contract training to government agencies and private organizations worldwide. Our education provides professionals with the knowledge, skills, and abilities to excel at every stage of their career contributing to safer communities and a more just society.
Last updated April 4, 2017