JIBC welcomes largest class to date of Chinese cadets
Students from three Chinese law enforcement colleges learn about Canadian justice and law enforcement best practices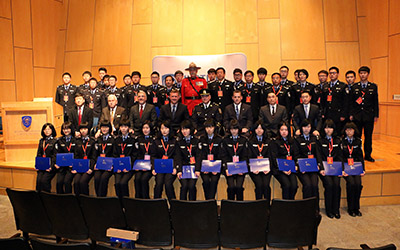 Chinese cadets from Jiangsu Police Advanced Vocational School (pictured), Jiangsu Police Institute, and National Police University recently completed two weeks of training at JIBC
Justice Institute of British Columbia (JIBC) recently welcomed its largest class to date of Chinese police and correctional officer cadets completing their applied education in justice and law enforcement.
JIBC provided specialized police and security training for 92 students from Jiangsu Police Institute (JPI), National Police University (NPU) and the Jiangsu Justice Police Advanced Vocational School (JJPAVS).
Nearing the conclusion of their five-year degree program in China, these cadets spent 10 days at JIBC gaining insights about the latest best practices in policing, corrections and emergency management.
Classes taught by JIBC's expert instructors introduced the latest insights and best practices in a number of subjects from cybercrime and organized crime investigations to international cooperation and incident command. The delegations also had the opportunity to observe Canadian law enforcement and corrections practices firsthand with visits to the Vancouver Police and New Westminster Police stations and the Surrey Pretrial Services Centre.
This latest class included the second delegation from JPI and the first group of cadets from NPI and JJPAVS.
"Our reputation for providing leading-edge public safety education continues to grow in China," said JIBC President and CEO Dr. Michel Tarko. "This is reflected in the growing number of Chinese institutions interested in sending their students to JIBC, and the feedback of students following their education in Canada. We certainly appreciate and value the confidence we have gained with our partners in China and the support of Canadian officials as we support the modernization of China's law enforcement and justice system."
Mike Trump, Dean of JIBC's School of Criminal Justice and Security and JIBC's Office of International Affairs, said, "In speaking with the instructors accompanying the cadets, it's clear that they value the education their students have received at JIBC. Our education and training has already made meaningful contributions in China, and we take our responsibility of helping mould the next generation of the country's public safety professionals very seriously."
About Justice Institute of British Columbia
Justice Institute of British Columbia (JIBC) is Canada's leading public safety educator. Our specialized programs lead to certificates, diplomas, bachelor's degrees and graduate certificates in Law Enforcement, Investigations, Emergency Management, Firefighting, Paramedicine, Sheriffs, Corrections, Counselling, Leadership, Mediation, Conflict Resolution, and Driver Training. JIBC also provides customized contract training to domestic and international governments, agencies and organizations. Our approach to education emphasizes applied learning and realistic simulations, delivered by instructors who are experienced practitioners. Our students' work makes communities safer, and helps people in need, throughout B.C., across Canada and around the world.
Last updated May 4, 2015