JIBC wins prestigious interactive media awards
Awards given for new training websites and mobile applications in JIBC's Emergency Management Division, Fire & Safety Division, and Health Sciences Division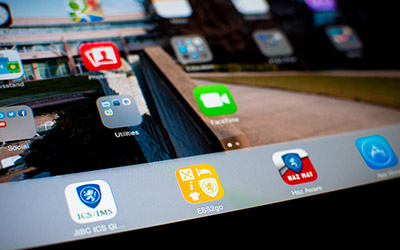 Mobile apps developed at JIBC for public safety students and professionals
have won international recognition (Photo by Dennis Yip)
Updated September 17, 2014
---
Justice Institute of British Columbia (JIBC) has won six awards for a number of its innovative new training websites and mobile apps created in the past year for industry professionals and students in JIBC's public safety programs.
JIBC received awards in the Education, Health/Human Services, Training/E-Learning, and Responsive/Mobile Design categories of the Horizon Interactive Awards, an international interactive media awards competition that highlights the "best of the best" in interactive media production.
JIBC received a Silver Award for its HazAware App that provides instant access to hazardous materials information. The app was developed by a team that included staff and faculty from JIBC's Fire & Safety Division and the Institute's Centre for Teaching, Learning and Innovation (CTLI). It was initially created as a study tool for students in JIBC's Career Fire Fighter Pre-Employment Certificate Program. Since then, it has become a free resource on Apple's App Store for professionals in various fields working towards National Fire Protection Association (NFPA) certification.
JIBC received two Bronze awards for the ABC of Autonomic Dysreflexia (AD) training website developed by a team that included members from ICORD, JIBC's Health Sciences Division, TELT, and Dr. Andrei Krassioukov, Associate Director of ICORD based at the University of British Columbia. This free, licensed, self-paced course was created for pre-hospital care workers to increase their awareness of, knowledge about how to manage AD, a life-threatening, uncontrolled spike in blood pressure that affects people with spinal cord injuries.
JIBC received a Bronze Award for its ESS2go iOS App, the first of its kind in Canada directed specifically for Emergency Social Services team members. Developed by a group that included staff from TELT and the Emergency Management Division (EMD), the app eliminates the need to use some paper-based planning and operational materials. It was created for use as a support tool in training scenarios and as a tool for use during a disaster with nearly all the functions available without the need for Internet access.
In September, accessibility of ESS2go was expanded with the launch of the app for Android devices.
JIBC also received Bronze Awards for the Introduction to Reception Centres and the Introduction to Group Lodging Open E-Learning courses offered by EMD. Developed in partnership with Emergency Management BC, the websites were created primarily to support training for people who live in rural and remote communities.
In addition to these awards, the Introduction to Intelligence Analysis course was named a 2014 winner of a Blackboard Catalyst Award for Exemplary Course. The award recognizes faculty and course designers from schools, colleges and universities around the world who develop exciting and innovative courses that represent the very best in technology and learning.
"JIBC has made it a strategic priority to improve public safety education and training by developing innovative new e-learning tools and simulations based on the latest applied research," said Dr. Michel Tarko, President and CEO of JIBC. "These awards recognize the ground-breaking work that is being done at JIBC and is a testament to our focus on educational excellence and student success. Congratulations to everyone involved!"
Last year, JIBC won three Horizon Interactive Awards for its Rural Disaster Resiliency Planning Community Toolkit.
"To be recognized for a second year in a row alongside leading organizations like Accenture, Microsoft, and Adobe is a fantastic achievement," said Dr. Tannis Morgan, Associate Dean of the Centre for Teaching, Learning & Innovation. "It highlights our commitment to finding new and innovative ways to advance public safety."
This year's Horizon Interactive Awards saw more than 1,600 entries from over 24 countries around the world. Entries were evaluated by an international panel of judges consisting of industry professionals from diverse backgrounds and an end-user judging panel that evaluated categories ranging from online advertising to mobile applications.
"The 2013 competition is undoubtedly one of the best showcases of outstanding interactive media in our long competition history," said Mike Sauce, founder of the Horizon Interactive Awards. "Winners in this year's competition highlight the best blend of technology, cutting-edge thinking, outstanding user-experience and overall aesthetics."
About Justice Institute of British Columbia
Justice Institute of British Columbia (JIBC) is Canada's leading public safety educator. Our specialized programs lead to certificates, diplomas, bachelor's degrees and graduate certificates in Policing, Investigations, Emergency Management, Firefighting, Paramedicine, Sheriffs, Corrections, Counselling, Leadership, Mediation, Conflict Resolution, and Driver Training. JIBC also provides customized contract training to domestic and international governments, agencies and organizations. Our approach to education emphasizes applied learning and realistic simulations, delivered by instructors who are experienced practitioners. Close to 30,000 students study at JIBC annually. Their work makes communities safer, and helps people in need, throughout B.C., across Canada and around the world.
Last updated April 3, 2017