Keeping the fire service strong
Twenty two graduate from Career Fire Fighter Pre-Employment Certificate Program
How dedicated was Andrew Lovett to excelling in JIBC's Career Fire Fighter Pre-Employment Certificate Program? On a memorable day in March he participated in a drill in the burn building on JIBC's Maple Ridge campus, rushed out of the burn building to see his son being born, and rejoined his classmates later that day.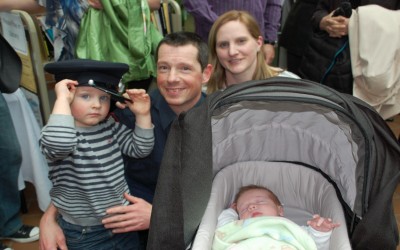 Andrew Lovett and family

That was one of the inspiring stories told March 30 – graduation day for students in the program. Lovett was among the 22 students in Class 87 who graduated from the intensive 12-week program and received professional certifications that will position them to apply for careers as fire fighters across Canada.
Along with earning the Career Fire Fighter Pre-Employment Certificate, all graduates received the NFPA 1001 Fire Fighter I & II certifications that are required before applying to most fire departments in BC. They also gained skills in dealing with hazardous materials, basic fire suppression and safety, rescuer and first responder skills, emergency vehicle driving, fire prevention, and public education.
In his valedictorian speech, John Leew recalled what Chief Dean Cleave, Coordinator of the Career Fire Fighter program, said to the students on the first day of the program. "The Chief said, 'Commit to this program for 12 weeks and I will take you on a journey.' I want to thank everyone graduating today for doing just that."
He also thanked the program's training officers. "By never sugar coating the truth and constantly raising the bar, you forced us to improve and understand what it truly means to be a fire fighter. We will do our utmost to take these lessons and use them to keep the fire service strong and the traditions alive. Thank you for a great education."
John gave special recognition to Chief Cleave. "Your dedication to this profession and to this program comes through in everything you do and say."
Another graduate, Jerry Aguiar, talked about how completing the demanding program has given the graduates a strong sense of teamwork and commitment to serving the public. "It pushes you to the breaking point and you learn what you're really capable of," he said about the Career Fire Fighter program.
Fire & Safety Division Director and former Deputy Fire Chief Wayne Stevens addressed the class in a "fireside chat" before they crossed the graduation stage. He reminded them that firefighters are "professional problem solvers" and that "people don't call the fire department because they are having a good day - they call when they are in trouble, or even having the worst day of their life".
Director Stevens asked the group if they felt prepared to apply for jobs as career fire fighters. Their answer? An enthusiastic, "Yes, Sir!"
Last updated April 5, 2017