New HAZMAT protocol featured in Nature
Decontamination protocol developed by JIBC's SIMTEC project
Earlier this year, JIBC's Simulation, Training and Exercise Collaboratory (SIMTEC) made national headlines for its research into ways to reduce the psychosocial stressors associated with decontamination during a CBRNE – a Chemical, Biological, Radiological, Nuclear or Explosive Event.
Now, that research has earned space in an even bigger forum: the online edition of Nature, the prestigious international science journal.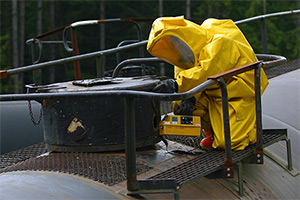 SIMTEC and JIBC Research Chair Dr. Laurie Pearce are mentioned within an article dealing with the U.K. government's plan to treat mass civilian casualties in the immediate aftermath of a CBRNE.
To read this coverage of SIMTEC, scroll through the article until you see an inset feature called "Stresses and strains".
About Justice Institute of British Columbia
Justice Institute of British Columbia (JIBC) is Canada's leading public safety educator. Our specialized programs lead to certificates, diplomas, bachelor's degrees and graduate certificates in Policing, Investigations, Emergency Management, Firefighting, Paramedicine, Sheriffs, Corrections, Counselling, Leadership, Mediation, Conflict Resolution, and Driver Training. JIBC also provides customized contract training to domestic and international governments, agencies and organizations. Our approach to education emphasizes applied learning and realistic simulations, delivered by instructors who are experienced practitioners. Our students' work makes communities safer, and helps people in need, throughout B.C., across Canada and around the world.
Last updated June 12, 2019