New JIBC degree addresses growing complexity in policing
Applications being accepted for the new Bachelor of Law Enforcement Studies program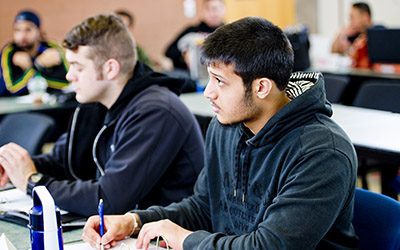 Justice Institute of British Columbia (JIBC) is accepting applications for its new Bachelor of Law Enforcement Studies (BLES) program that gives prospective recruits a competitive edge by providing the complex skills needed in today's police officers.
"The program is the first of its kind in Western Canada," said Mike Trump, Dean of the School of Criminal Justice and Security at JIBC. "It was developed to provide the latest techniques and necessary skills to deal with the growing sophistication of crime and the increasing complexity of policing."
One only has to look at some recent cases in B.C. like the 2011 Stanley Cup Riot to discover how complex policing has become. The Integrated Riot Investigation Team, made up of members from the Lower Mainland's police forces, forensically processed more than 5,000 hours of video and thousands of individual photos to identify and charge nearly 300 suspected rioters to date.
"Forensically processing evidence involves knowing how to protect evidence from contamination and to ensure that any collection of evidence will withstand the most stringent criminal court proceedings," said Steve McCartney, coordinator for the Law Enforcement Studies Diploma and the Bachelor of Law Enforcement Studies at JIBC.
"Policing today is more complex on so many different levels. It's no longer just responding to calls," he said. "Police officers today have to know how to comprehend massive amounts of information and they need to know how to write and organize reports and affidavits that are necessary to secure charges."
Learning how to properly conduct forensic investigations, handle firearms, and drive emergency vehicles are just some of the essential skills prospective police recruits learn through JIBC's law enforcement program. It begins with a two-year Law Enforcement Studies Diploma (LESD), which can ladder into the BLES program.
Graduates of the LESD program and students from other post-secondary institutions with a criminal justice or criminology diploma are invited to apply for the new bachelor's degree. If they meet the admission requirements, their credits can be transferred and students can continue their education in the third year of the BLES program.
Third and fourth year courses develop a candidate's leadership, critical thinking and ethical decision-making skills and provides a background in areas including business, human resources, research and labour law issues.
McCartney noted that more than half of the recruits hired by local police departments and trained at B.C.'s Police Academy have a bachelor's degree.
"Completion of the degree provides a competitive edge for people looking to be hired as police officers, sheriffs, correctional officers, and a number of other law enforcement careers," said McCartney. "It also provides career flexibility by providing the skills and knowledge needed in a wide range of other public safety professions."
The application deadline for the Bachelor of Law Enforcement Studies is April 30, 2014.
For more information, visit www.jibc.ca/bles or send an email to bles@jibc.ca.
Last updated August 5, 2014