Okanagan College and JIBC open degree path in law enforcement
Criminal and Social Justice Diploma graduates from Okanagan College will be able to continue their studies into JIBC's Bachelor of Law Enforcement Studies starting in September 2016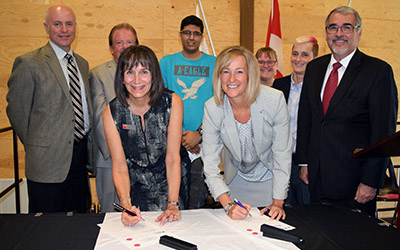 Steve McCartney (JIBC's Law Enforcement Studies Diploma Coordinator), Dr. Rob Huxtable (Okanagan College Dean of Arts and Foundational), Charlotte Kushner (OC Vice President Students), Jarjot Gill (second-year Criminal and Social Justice student), Dr. Laureen Styles (JIBC's Vice President Academic), Donna Lomas (Regional Dean Okanagan College), Shaun Machesney (JIBC's Bachelor of Law Enforcement Studies Coordinator,), and Mike Trump (JIBC Dean of the School of Criminal Justice and Security) at the signing of the agreement to expand regional access to JIBC's Bachelor of Law Enforcement Studies program.
Okanagan College and the Justice Institute of British Columbia (JIBC) are opening the doors for students to complete JIBC's Bachelor of Law Enforcement Studies degree program at the College's Penticton campus.
Beginning in September of 2016, Okanagan College graduates of the Criminal and Social Justice Diploma (CSJ) will have a privileged opportunity to complete this degree. JIBC guarantees 24 seats to CSJ students who meet the academic standards set out by OC and JIBC. Other seats will be available to all students who meet the admission requirements and who have ambition for a career in law enforcement.
The agreement between the two institutions was announced today in Penticton.
"Providing the next generation of public safety professionals with the applied skills and experience to excel in their career is the purpose of the Bachelor of Law Enforcement Studies program," said Mike Trump, Dean of JIBC's School of Criminal Justice and Security. "We value our partnership with Okanagan College to expand regional access to this applied degree program, which is the first of its kind in Western Canada."
"Leadership, critical thinking, and ethical decision-making are just some of the skills students will gain in completing the degree," said Shaun Machesney, Coordinator of the Bachelor of Law Enforcement Studies program. "These skills, and completion of a relevant degree, will provide a competitive edge for graduates pursuing a rewarding career in law enforcement and a wide range of other public safety professions."
"We have been working collaboratively for some time and are excited to announce this partnership today," explains Dr. Robert Huxtable, Dean of Arts and Foundational Programs at Okanagan College. "The opportunities for all of our students, and for the students of the Criminal and Social Justice program in particular, are very significant. The CSJ Diploma was introduced in 2006, and it has been one of the strongest academic programs we have in the South Okanagan. Coming on the 10th anniversary of the program's first intake, this new option for graduates of the diploma program to continue their studies locally will only strengthen our program and enhance connections to the law enforcement and justice communities."
Approximately 100 students are registered in the first year of OC's CSJ program this fall. About 32 graduated the program this past spring. This fall the College has the largest second-year class of approximately 50 students.
"We will be letting all our previous graduates know about the opportunity over the coming months," notes Donna Lomas, Okanagan College's Regional Dean for the South Okanagan Similkameen. "I expect that some of them may be interested in registering and I know having this transition option will probably also help encourage more students to enrol here."
"This option also means that students have an opportunity to complete a degree in their home region. Many students will be able to save on transportation and housing costs."
The news of the programming partnership excites second-year Okanagan College student Randy Forster, who has pursued his diploma in Criminal and Social Justice with an eye to a policing career. "This has my attention. I wasn't excited about having to go to Vancouver to finish a degree if I need to. I'm not big on big cities for learning."
The degree will initially be conferred by JIBC but the two institutions have agreed to work toward a co-conferred degree.
News of the inter-institutional agreement arrives as construction continues on the 378-cell, $200-million Okanagan Correctional Centre in Oliver, B.C., about 39 kilometres south of Okanagan College's Penticton campus. It is expected to open its doors in 2016.
About Okanagan College
Okanagan College is the largest college in B.C.'s interior, educating almost 20,000 people annually at its four campuses and 10 other locations.
About Justice Institute of British Columbia
Justice Institute of British Columbia (JIBC) is Canada's leading public safety educator with a mission to develop dynamic justice and public safety professionals through its exceptional applied education, training and research. JIBC offers internationally recognized education that leads to certificates, diplomas, bachelor's degrees and graduate certificates; exceptional continuing education for work and career-related learning and development; and customized contract training to government agencies and private organizations worldwide. Our education provides professionals with the knowledge, skills, and abilities to excel at every stage of their career contributing to safer communities and a more just society.
Last updated November 9, 2015