A lifeline for those in need
By Denise Deveau
Even after 20 years of working in the paramedic field, Kathy Harms says she never loses the sense of excitement that goes with the job. "The idea that people are looking to you to make things better is still what gets me going in the morning," she says.
Now a program director with the Paramedic Academy, School of Health Sciences for the Justice Institute of British Columbia in New Westminster, Harms has been in a number of roles, including ambulance services, training and post-disaster relief work. "There's no end of opportunities in this profession."
It takes a special person to get into the paramedic/emergency response field, she says. "They are people who are committed to helping others when they are in chaos and despair.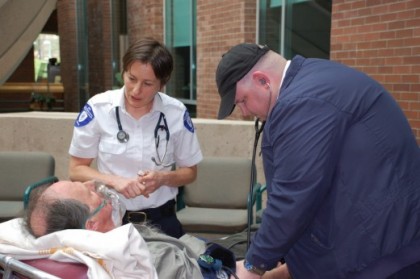 "The work itself can be arduous and inconsistent, she adds. "The big joke everyone hears is the work is made up of long periods of deafening boredom interrupted by periods of sheer panic.
"There are four basic levels of paramedic training, each of which builds on the skills of the previous level. Profile descriptions are outlined in the National Occupational Competency Profile published by the Paramedic Association of Canada, which is the accreditation body for all training programs across Canada.
An entry level emergency medical responder (EMR), which takes a few weeks, can provide basic life support, CPR, patient transfer and airway management.
A primary care paramedic is typically a two-year diploma program that may combine online, in-class and clinical studies as well as a practicum. Many are employed by ambulance services, hospitals and care homes.
An advanced care paramedic must complete an additional 18 months of educational training, which includes time in specialized environments, such as geriatric care, ambulances, neonatal ICU, and operating rooms among others.
A critical care paramedic is much like a "portable ICU crew," Harms says. These individuals are involved in critical care transport situations.
Prerequisites for entry-level training include Grade 12 English and sciences and Grade 11 math. Additional skills that can help when applying include second languages, university-level sciences and/or relevant volunteer work.
Posted with the express permission of: "The Province", a division of Postmedia Network Inc.
Last updated October 28, 2014