Partnership with Mercyhurst University expands opportunities for JIBC graduates
Deadline approaching to apply for Intelligence Analysis graduate programs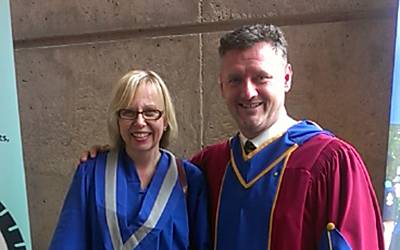 Jennifer Johnstone, with JIBC President Dr. Michel Tarko, is the first JIBC graduate to continue her studies at Mercyhurst University
Justice Institute of British Columbia (JIBC) graduates now have the opportunity to continue their studies at Mercyhurst University, home to one of the top Security, Intelligence and Law Enforcement institutes in the U.S.
JIBC has signed an articulation agreement that allows graduates from its Graduate Certificate in Intelligence Analysis, or Graduate Certificate in Tactical Criminal Analysis, to continue their education at Mercyhurst and complete a Master of Science in Applied Intelligence.
The relationship between Mercyhurst and JIBC began a few years ago when the two institutions forged a curriculum sharing collaboration in order to mount the Graduate Certificates in Intelligence Analysis and Tactical Criminal Analysis at JIBC. The credentials are based on Mercyhurst curriculum which was adapted to the Canadian context.
JIBC President Dr. Michel Tarko said, "Mercyhurst is highly respected for training the next generation of intelligence analysts. This agreement deepens the relationship between Mercyhurst and JIBC and reflects our ongoing commitment to providing expanded opportunities for students and professionals to further their education and obtain a graduate degree."
In addition to providing the latest skills and techniques in intelligence analysis and reporting, JIBC's programs provide important information about Canadian laws and protocols for today's analysts working in diverse fields including business, finance, medicine, law enforcement and security.
Jennifer Johnstone is the first JIBC graduate to continue her studies at Mercyhurst University. An analyst with the Royal Canadian Mounted Police (RCMP) and president of the International Association of Law Enforcement Intelligence Analysts (IALEIA), Jennifer completed JIBC's Intelligence Analysis Graduate Certificate program in April of 2013.
"There are many benefits of taking the JIBC graduate certificate," she said. "irst, the courses are often taught by Canadians with the focus on Canadian law and culture. Second, the JIBC agreement with Mercyhurst offers a smooth transition into their full master's program."
She said that even with her 20 years of experience in the field, the JIBC program provided her with new analytical methods that have become invaluable in her work. And she continues to learn critical new skills at Mercyhurst.
"I strongly recommend the JIBC program either as a standalone graduate certificate or as a stepping stone to a full master's degree at Mercyhurst."
JIBC is accepting applications for the next intake to its two graduate-level intelligence analysis programs. Students can begin studies in May 2014 if they apply by March 31. More information is available on the Graduate Studies page on the JIBC website.
About Justice Institute of British Columbia
Justice Institute of British Columbia is Canada's leading public safety educator. Our specialized programs lead to certificates, diplomas, bachelor's degrees and graduate certificates in Policing, Investigations, Emergency Management, Fire fighting, Paramedicine, Sheriffs, Corrections, Counselling, Leadership, Mediation, Conflict Resolution, and Driver training. JIBC also provides customized contract training to domestic and international governments, agencies and organizations. Our approach to education emphasizes applied learning and realistic simulations, delivered by instructors who are experienced practitioners. Every year, approximately 30,000 students study at JIBC. Their work makes communities safer, and helps people in need, throughout B.C., across Canada and around the world.
Last updated April 5, 2017