Renewal underway for JIBC Burn Building at the Maple Ridge campus
Funding from Ministry of Advanced Education contributes to a unique training facility for firefighters and JIBC students that's slated to reopen February 2015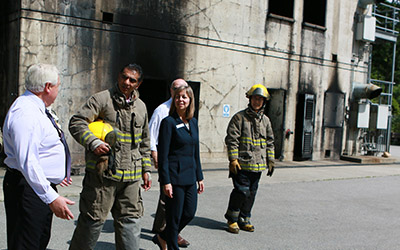 Advanced Education Minister Amrik Virk (second from the left) speaking with JIBC Fire & Safety Division Director Peter Grootendorst (left), and JIBC Dean of the School of Public Safety Colleen Vaughan (centre) in front of the Burn Building during a tour of the Maple Ridge Campus in June 2014
Renewal of the hottest classroom at Justice Institute of British Columbia (JIBC) is underway through a $725,000 grant from the Ministry of Advanced Education.
The Burn Building at JIBC's Maple Ridge Campus is undergoing extensive reconstruction to further serve the education and training needs of B.C. firefighters and JIBC firefighting students. Among the many capacities of the three-storey concrete structure, the Burn Building is one of the only facilities of its kind in Canada that utilizes common combustible materials to create real-life fire behaviour and effects that firefighters deal with in structural fires in the community.
"Hands-on learning is an important component in the education and training of emergency responders, including firefighters," said Advanced Education Minister Amrik Virk. "JIBC's Burn Building is certainly a unique classroom but also one that will support our students now and well into the future."
"This grant is very much appreciated," said Colleen Vaughan, Dean of JIBC's School of Public Safety. "This funding will support the education and training needs of our students and firefighters in B.C. and contribute to one of Canada's premier firefighting training facilities."
"Since it opened in 1995 the Burn Building has been used to provide invaluable hands-on training and experience," said Peter Grootendorst, Director of JIBC's Fire & Safety Division. "The reconstruction underway will help us continue providing the facilities and training opportunities for current and future fire and rescue professionals."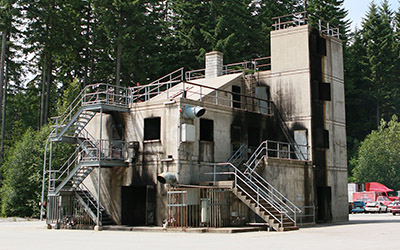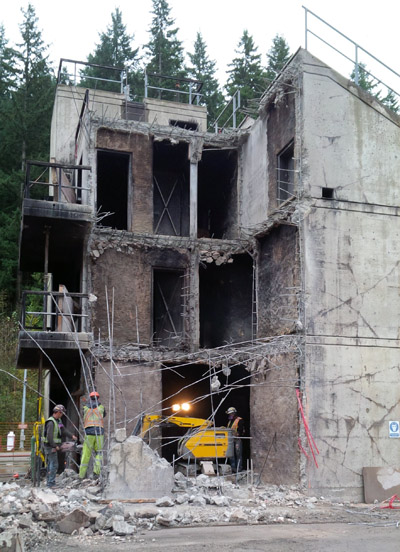 A shot of the Burn Building renewal at the Maple Ridge Campus
JIBC's Maple Ridge Campus is designed for the hands-on firefighting practice and training delivered by JIBC's Fire & Safety Division. In addition to the Burn Building, the campus includes a number of unique training props, including a ship's steel superstructure used for simulating marine firefighting, high angle rescue tower, industrial flammable liquid props and an 11-car train derailment prop used to train firefighters from across the country to respond to railway disasters, fires and chemical spills.
About Justice Institute of British Columbia
Justice Institute of British Columbia (JIBC) is Canada's leading public safety educator. Our specialized programs lead to certificates, diplomas, bachelor's degrees and graduate certificates in Policing, Investigations, Emergency Management, Firefighting, Paramedicine, Sheriffs, Corrections, Counselling, Leadership, Mediation, Conflict Resolution, and Driver Training. JIBC also provides customized contract training to domestic and international governments, agencies and organizations. Our approach to education emphasizes applied learning and realistic simulations, delivered by instructors who are experienced practitioners. Our students' work makes communities safer, and helps people in need, throughout B.C., across Canada and around the world.
Last updated January 6, 2015