Researchers propose new process for decontaminating HAZMAT victims
Giving people control over their own decontamination process reduces risk and trauma, researchers say
Picture this: a large tanker transporting toxic chemicals overturns near a small British Columbia community. Dozens of residents are exposed and require decontamination.
From a safe distance, first responders direct people out of the hot zone and wait for HAZMAT. However, people are anxious and impatient.
After 30 minutes, many have left the scene. Some enter a local hospital's emergency department, contaminating the hospital and placing numerous others at risk of contamination. Once hospital staff realize that casualties have arrived from the scene of a chemical spill, the facilities are immediately locked down. Now, no one is permitted to enter or leave until the hospital has been decontaminated.
Those who remain at the scene are met by a faceless, voiceless HAZMAT team clad from head to toe in "Darth Vader" suits. Fearful children scream and cry while anxious parents try to calm them down. It's a traumatic and chaotic scenario, yet also a very real possibility during what public safety professionals refer to as a "CBRNE" – a Chemical, Biological, Radiological, Nuclear or Explosive Event.
JIBC's Simulation, Training and Exercise Collaboratory (SIMTEC) team is a four-year research project formed in 2011 to find ways to reduce the many psychosocial stressors associated with decontamination during a CBRNE. During their research, SIMTEC researchers discovered something powerful: providing people with control over their own decontamination not only reduces anxiety and extended trauma, it also significantly increases the successful removal of harmful contaminants before HAZMAT teams can respond.
"In BC, hundreds of events requiring decontamination happen each year - most of them small and localized. Unfortunately, it takes time for HAZMAT to respond, particularly if they aren't based nearby," explains Dr. Laurie Pearce, JIBC Research Chair. "SIMTEC's new Self-Care Decontamination Protocol allows any trained first responder to safely get a head start on the decontamination process prior to HAZMAT response. It's an innovative yet highly practical approach."
These findings resulted from a project funded by the Canadian Safety and Security Program (CSSP) and supported by Project Champion Health Canada, in collaboration with Royal Roads University. The CSSP is a federally funded program led by Defence Research and Development Canada's Centre for Security Science, in partnership with Public Safety Canada.
The new protocol pays close attention to at-risk populations, such as pregnant women, children, babies, and others with special needs. Self-care decontamination kits contain essentials such as specialized wipes and disposable clothing, but they are also gender or age specific. For example, kits for older girls and women include sanitary napkins and mesh underwear while infant kits contain soothers and diapers.
"These aerodynamic kits are meant to be tossed by first responders to affected people. Each kit contains detailed illustrations about the self-care decontamination process. First responders use bullhorns to provide verbal direction as well as physically demonstrating what to do," says Dr. Pearce. "And because children often suffer the most enduring trauma, we've even included a special doll dressed in removable HAZMAT gear. Kids can undress the doll prior to the arrival of HAZMAT to realize there are actually people inside the scary suits. The dolls are an excellent source of comfort for frightened children and their parents."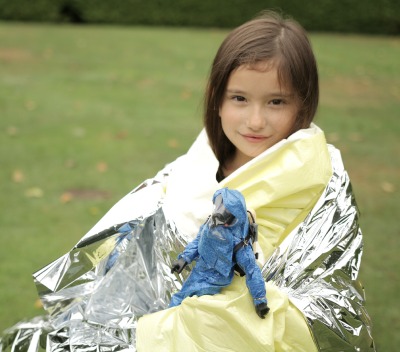 Sofia, 5, participated with her mother in a decontamination drill in White Rock, BC, in August 2013. She is wrapped in a rescue blanket and holding a "Decon Doll" designed to help prepare children for the arrival of a HAZMAT team. [Photo: Kevin Loh.]
In March 2013 the new protocol was successfully tested during a cold weather drill in North Vancouver. Follow-up interviews with participants allowed SIMTEC to further improve the protocol. The team then presented "Exercise Green Cloud", a simulated functional table-top exercise. Using state of the art JIBC PRAXIS technology, the simulation allowed responders from hospital and community-based emergency operations centres, a community Incident Command Post, Health Canada's Emergency Operations Centre, and the RCMP to implement SIMTEC's protocol in the event of a hypothetical terrorist gas attack.
Exercise Green Cloud was the culmination of months of extensive research and testing, according to Dr. Pearce. "The exercise was a tremendous success and we've received a great deal of positive feedback about our work from local, national and international HAZMAT organizations, including the US Army and Canadian military. Our hope is for our protocol to be adopted and implemented by first responders everywhere."
In collaboration with Emergency Management BC (EMBC), JIBC convened a two-day workshop on January 13 and 14 to allow national and international HAZMAT experts to review, critique and further refine the protocols for eventual use by first responders. The delegates included representatives from the US Army's Chemical, Biological, Radiological, and Nuclear School and the Police National CBRN Centre in the UK.
Last updated June 12, 2019