Students save big with use of free and open textbooks at JIBC
Hundreds of JIBC students will collectively save more than $50,000 because of the use of open and free textbooks at JIBC; new textbooks under development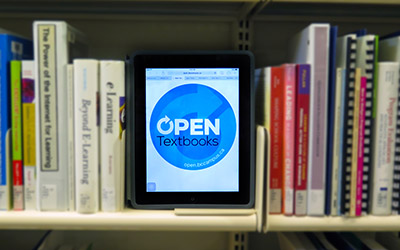 Justice Institute of British Columbia (JIBC) is increasing accessibility and affordability of post-secondary education through its use and development of free and open textbooks in a number of its courses.
This year, more than 425 JIBC students in liberal studies and specific public safety courses will be using open textbooks published under a creative commons license.
Three of these books come from the BC Open Textbook Collection available from BCcampus, a publicly funded organization that uses information technology to connect the expertise, programs, and resources of all B.C. post-secondary institutions under a collaborative service delivery framework.
Collectively, JIBC students will be saving at least $54,000 in textbook costs this year alone.
"Several years ago, JIBC recognized the opportunity and value of open textbooks and other open educational resources to increase accessibility of our education and training," said Dr. Laureen Styles, JIBC's Vice-President, Academic. "Our dedicated team in the Office of Applied Research and Graduate Studies has continued to do a tremendous job of incorporating open educational resources in our various programs with faculty, helping students realize significant savings in the cost of their education."
For example, with the use of an open textbook, students in JIBC's English 100 courses save the $134 they would have previously had to spend on traditional textbooks used in the course. Students in the Statistics 100 and Psychology 100 courses will save approximately $100 in each course.
"[Open textbooks] are lighter on the pocketbook and lighter in the backpack," said Dr. Stuart Ruttan, Associate Dean for the Centre for Academic Planning and Graduate Studies. "And we aren't sacrificing quality. It's one thing to save money, but we've got to make sure the quality is there. The BCcampus framework for review [of open textbooks] has been very helpful, and we were able to make rational decisions based on the feedback from colleagues across the province."
New textbooks available and under development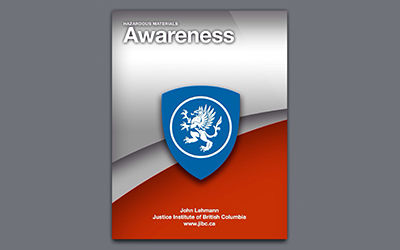 The Hazardous Materials Awareness ibook is the latest free resource developed at JIBC for students and industry
JIBC continues to develop additional free textbooks and resources for students and for industry. JIBC is contributing to an adapted version of an open textbook currently being used in first-year English courses.
And recently, JIBC's Fire & Safety Division launched its Hazardous Materials Awareness ibook, a free resource downloadable for Apple iPad devices. Designed to be used with JIBC's Hazardous Materials app, the book covers the competencies required by NFPA 472 (2008) standards for awareness level personnel.
With funding from BCcampus, JIBC is also developing an open textbook for the Applied Ethics course in JIBC's Law Enforcement Studies Diploma program. The new textbook will be one of the first open textbooks in criminology, one of the 40 most highly enrolled first and second-year subject areas in B.C.
"In addition to providing updates to existing textbooks, we are contributing to many disciplines for which there are no open textbooks," said Dr. Tannis Morgan, Associate Dean of the Centre for Teaching, Learning and Innovation. "Because of our unique mandate, we can contribute in a different way, in addition to contributing to the broader post-secondary sector."
About Justice Institute of British Columbia
Justice Institute of British Columbia (JIBC) is Canada's leading public safety educator. Our specialized programs lead to certificates, diplomas, bachelor's degrees and graduate certificates in Policing, Investigations, Emergency Management, Firefighting, Paramedicine, Sheriffs, Corrections, Counselling, Leadership, Mediation, Conflict Resolution, and Driver Training. JIBC also provides customized contract training to domestic and international governments, agencies and organizations. Our approach to education emphasizes applied learning and realistic simulations, delivered by instructors who are experienced practitioners. Our students' work makes communities safer, and helps people in need, throughout B.C., across Canada and around the world.
Last updated April 24, 2018