Value of JIBC training highlighted in recent news coverage
Training simulations key to helping firefighters respond to emergencies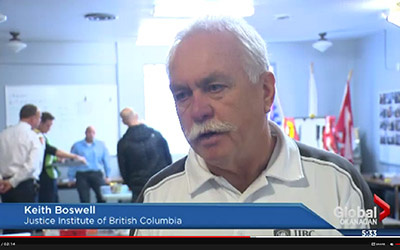 Training provided by the Fire & Safety Division of the Justice Institute of British Columbia (JIBC) was highlighted in recent news coverage, which showcased the value of using simulations to train firefighting personnel.
Last week, Global News BC reported on the emergency scene management training provided by the Fire & Safety Division for the Penticton Fire Department.
An important component of the training for the local firefighters included responding to a simulated house fire call.
Keith Boswell, the JIBC instructor who led the course, noted the value of using realistic simulations as part of a firefighters training in the story.
"If we can create as close to a real life event for them, prior to them experiencing the real thing, it helps them in being able to manage the incident."
The full story is available on the Global News BC website.
About Justice Institute of British Columbia
Justice Institute of British Columbia (JIBC) is Canada's leading public safety educator. Our specialized programs lead to certificates, diplomas, bachelor's degrees and graduate certificates in Law Enforcement, Investigations, Emergency Management, Firefighting, Paramedicine, Sheriffs, Corrections, Counselling, Leadership, Mediation, Conflict Resolution, and Driver Training. JIBC also provides customized contract training to domestic and international governments, agencies and organizations. Our approach to education emphasizes applied learning and realistic simulations, delivered by instructors who are experienced practitioners. Our students' work makes communities safer, and helps people in need, throughout B.C., across Canada and around the world.
Last updated January 28, 2015