Emergency Medical Responder
The EMR course offers fundamental medical training for anyone entering the health care field.
Register Online
Visit the PARA-1050 or PARA-1051 course page, click on the date you'd like, and follow the instructions.
This course focuses on the skills needed to respond to trauma and medical emergencies. Training also includes the fundamentals of anatomy, physiology, pathophysiology, pharmacology, and medical terminology. The Emergency Medical Responder course is required training for First Aid Attendants and is also a prerequisite course for the Primary Care Paramedic Program.
There are two versions of the Emergency Medical Responder (EMR) course: a regular-paced course in either full time or part time (PARA-1050); and an accelerated-paced course in either full time or part time (PARA-1051). Please note that prerequisites must be met to enroll in the (PARA-1051) Accelerated course.
This course is offered in various formats at our New Westminster campus, Chilliwack, Kelowna and Victoria Campuses as well as locations throughout British Columbia:
Full Time - 15 days, Monday to Friday, 8:30 a.m. - 4:30 p.m.
Part Time - 14 days, Saturdays and Sundays, 8:30 a.m. - 5:00 p.m.
Prerequisites
Must be at least 16 years of age
This course is offered in two formats at our New Westminster, Chilliwack, Kelowna and Victoria Campuses as well as locations throughout British Columbia:
8 days of training running for two consecutive weeks (4 days per week), 8:30am - 4:30pm.
Student attendance is 100%
Prerequisites
Students must have and be able to provide proof of at least one of the following requirements:
Previous EMR certification (completed within the last 3 years),
Occupational First Aid Level 3 (OFA3),
First Responder Level 3 (Spinal/AED endorsed),
Advanced Wilderness First Responder (WFR) 80 hours minimum,
Advanced Medical First Responder Level 2, is a course that is deemed equivalent by the JIBC.
Outdoor Emergency Care Certificate - 80 hours with Spinal/AED training,
Above noted pre-requisite credentials must be current, valid or have expired within the past 6 months.
Course Dates
For more details on PARA-1050 or PARA-1051 (Accelerated), including schedules, locations, and availability, visit the following webpages:
Tuition & Fees
Tuition for EMR (PARA-1050)
Tuition for EMR Accelerated (PARA-1051)
Prices listed do not include taxes or the cost of textbooks.
PROSPECTIVE STUDENTS | PARA-1050

Questions

Answers

COURSE INFORMATION | PARA-1050

What is the Emergency Medical Responder/PARA-1050 course?

The EMR course is an entry-level pre-hospital emergency medical course, delivered face to face. It is accessible for those with little to no prior training.

When/where are EMR/PARA-1050 courses scheduled?

You can find an up to date EMR/PARA-1050 course schedule at our WebAdvisor course catalogue

What are the pre-requisites for EMR/PARA-1050?

Grade 10 English & Math (recommended). Minimum 16 years old.
COURSE INFORMATION | PARA-1051

What are the pre-requisites for EMR/PARA-1051?

This course is designed for applicants with advanced first-aid training. The following courses only are considered acceptable for entry into the PARA-1051 course:

Previous EMR certification (in the last six months)
Occupational First Aid (level 3)
Outdoor Emergency Care (OEC)
BC First Responder FR Level 3 (With Spinal/CPR-AED endorsements)
Advanced Medical First Responder (Level 2)

GENERAL COURSE EMR COURSE INFORMATION

What are the course times?

Full Time: 15 days, Monday-Friday, 8:30am-4:30pm
Part-Time: 14 days Saturdays & Sundays, 8:30am-5:00pm
Evenings: Mondays, Tuesdays & Thursday - 6pm-9.30pm. Courses run each week over 30 days.
105 hours in total (not including pre-read)

*Rural/off-campus deliveries may differ in delivery formats - please check WebAdvisor course catalogue for specific formats.

I am an English as a second language applicant (ESL); how can I prepare for the EMR course?

You should review your level of English writing and comprehension with your local college. Some colleges (not currently JIBC) offer a medical comprehension for ESL students course.

Can I get a refund for my textbooks if the EMR course is cancelled?

The JIBC Store follows specific refund procedures. You should check with the JIBC Store before purchasing any items.

Are there any exams?

Students in the PARA-1050 & PARA-1051 courses are assessed and coached throughout the course. Formal evaluations are as follows:

2 multiple choice interim written examinations
Final comprehensive written exam: 100 multiple choice questions
6 skills assessments built into days 1-13 (PARA-1050)
Final practical examinations (1 medical scenario/1 trauma scenario)
If unsuccessful, remediation examinations can be taken within 60 days (offered once per month per campus - off-campus remedial examination dates will be offered at the same venue within one month)

Is my nursing degree equivalent to the EMR/PARA-1050 level?

Unfortunately not. Currently, the BC Ministry of Health, Emergency Medical Assistant's Licensing Board (EMALB) who govern theEmergency Medical Assistant's Regulations do not allow transferability between nursing and pre-hospital medicine without first completing paramedic education.

Do I need to complete a Criminal Record Check to apply for the EMR/PARA-1050 course?

Currently, there are no requirements for a Criminal Record Check to apply for a seat in the EMR course. However, you will likely need to complete a Criminal Record Check for potential employers.

I have a learning difficulty/physical disability, will this restrict my participation in the EMR courses?

Please contact the JIBC Student Advising Services Centre for a confidential assessment based on your individual needs.

Can I access funding for the EMR courses?

Currently, applicants can only access funding through their Employment or Education support services. No JIBC funding is available for this level of training.

Can I miss any of the course?

There is a minimum attendance requirement of 100%. An attendance rate of 99% or less will result in an automatic exit from the EMR course with no refund. Examination days cannot be missed - failure to examine will be counted as a failed exam attempt.

What job opportunities exist for EMR's?

You can research employment opportunities at the following 3rd party links:

Is there a dress code?

Casual, comfortable attire is recommended and closed-toe footwear (i.e. running shoes) is required.

Is there a Cafeteria?

The New Westminster Campus cafeteria is on the ground level between the courtyard and the main parking lot. It's open to the students, staff, and the public. The Chilliwack, Kelowna and Victoria Campuses do not have a cafeteria available. All Campuses are located within walking distance to cafe's, restaurants or grocery stores. All campuses have an area to consume food.

Do I have to pay for parking?

Parking is free at the Chilliwack, Kelowna and New Westminster Campuses. The Victoria Campus is located downtown and does not have free parking available.
Required Books:
The following are the required course materials which can be purchased from the JIBC Store at the New Westminster Campus prior to class start.
Emergency Medical Responder: A Skills Approach (4th Edition)
Canadian Red Cross First Aid & CPR Manual
Accessories:
Stethoscopes and BP cuffs are provided in class but need to be shared. These items can also be purchased at the JIBC Store in New Westminster.
If you are unable to visit the JIBC Store in person, call 604.528.5870 to order your books and/or accessories by phone and they will be shipped directly to you. Note that other JIBC locations, including the Chilliwack, Kelowna and Victoria campuses Do Not Have Books Available for Sale.
JIBC EMR Online Blackboard Resources (access available on first day of class):
JIBC Student Study Guide (PDF) and other EMR Resources are available online for students during class. To log in, navigate to: https://myjibc.ca
Refunds for Continuing Studies Courses (Refund Policy-3210–003)
If a student withdraws 7 calendar days prior to the beginning of the course they receive a 100% refund;
Withdrawal with less than 7 calendar days from the start of the course are not eligible for tuition refund;
Some courses may have non-refundable tuition, application, and/or material fees (this will be identified at the time of registration).
For information on the JIBC refund policies, follow the webpage link below:
General Information:
JIBC Store provides crested apparel, giftware, books, and student supplies through our New Westminster storefront and online.
For PARA-1051 EMR Accelerated classes, students must provide proof of prerequisites.
If you have any questions prior to the start of the EMR course please feel free to email us at emr@jibc.ca or call Student Services at 604.528.5590 or toll-free at 1.877.528.5591.
Learners must purchase the required textbooks and must have them on hand for reference during class. The following textbooks are required for this course:
Brady's Emergency Medical Responder: A Skills Approach (4th Canadian Edition)
ISBN-13: 9780132892575
Canadian Red Cross First Aid & CPR Manual. Canadian Red Cross 2011. ISBN 978-158480-513-7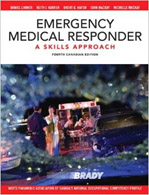 ---


Pre-Read:
There is no formal / mandatory pre-reading for EMR. However, for those students who wish to do some reading please find attached PDFs with specific readings - Lessons 1 - 6 for PARA-1050, or Lessons 1 - 10 for PARA-1051. Read through the appropriate Lessons in the Student Study Guide and then read the corresponding reading in the textbook.
---
The New Westminster campus no longer runs the instructor-led practices or conducts EMR retets on the Wednesday evenings. Current students are still able to remain to practice in their classroom in the evenings.
Other JIBC campuses and off-campus locations' re-testing dates will differ.
Please note that students have 60 days to complete their remedial re-testing.
The JIBC welcomes and assists all international students who wish to complete their studies with us.
International learners who are interested in completing the EMR Program or are interested in completing both the EMR and PCP Programs with the JIBC must contact the JIBC International Studies Department directly via email at international@jibc.ca.
Last updated March 22, 2017