Bob Stewart: a JIBC founder and champion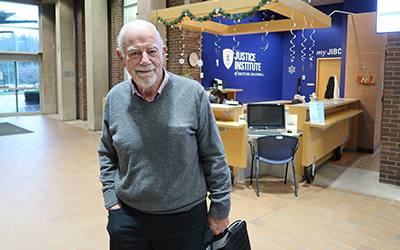 Few people could claim to have as much first-hand knowledge of the evolution of police training in Metro Vancouver as Bob Stewart.
Fewer still could claim to have as much influence on the training and education of not only municipal police in British Columbia but all first responders in the province.
After all, Stewart, now 85, moved up the ranks with the Vancouver Police Department (VPD) starting in 1954 as a new recruit and ending in 1991 after 10 years as Chief Constable. In between, in the 1970s, he became a VPD inspector in charge of training for the department, a role that ultimately led to his involvement as one of the founders of the Justice Institute of British Columbia (JIBC).
In the 1950s, VPD recruit training was about two weeks long. "I always said that we were in the classroom on the first day in our civilian clothes and by about the 15th day they gave us uniforms and we basically graduated the next day. So if the tailor had been slower, we would have had more training," he joked.
By the early 1970s, that training had progressed to about 12 weeks and VPD began selling training seats to other BC municipal police departments. With a new provincial government in power, a new Police Act was created, which included creation of the B.C. Police Commission to which Stewart was appointed and tasked with upgrading and standardizing the quality of training. The result was the B.C. Police College which eventually became the JIBC Police Academy. The college's first director was Gerald Kilcup, who went on to become the first president of JIBC.
Stewart recalled getting on very well with the attorney-general of the day, Alex MacDonald, who he considered a friend of police forces. "I think I had a major influence on him by saying that, taxpayers are paying for police, fire, ambulance, courts and all these kinds of things. All these people work together, why wouldn't we train them all in the same facility so that they could get to know each other much more deeply? And of course, that's the essence of the Justice Institute of British Columbia."
JIBC's first campus was a former military barracks and the former home of the Jericho Hill Provincial School for the Deaf and School for the Blind on West 4th Avenue in Vancouver. Over time, as the founding chair of JIBC's Board of Governors, Stewart helped lobby for a purpose-built facility by impressing on provincial government officials the importance of first responders and the need to train them in a better facility. "I should've taken up selling cars about that time," he said with a laugh.
Eventually, the province allocated $30 million for what would become the main campus at the corner of McBride Boulevard and 8th Avenue in New Westminster. For Stewart, the most memorable day of his involvement with JIBC was when he helped cut the ribbon on opening day in New West.
Stewart's direct involvement with JIBC spanned more than 25 years. He recalled the provincial government somehow not noticing he had exceeded its six-year maximum for board appointees until he was already in his 15th year on the JIBC Board of Governors. He requested and was allowed to continue until he'd put in 17 years and presided over the aforementioned ribbon-cutting. He also helped establish The Justice Institute of British Columbia Foundation, which raises funds to support education, training, student learning and applied research at JIBC, including scholarships and bursaries and new equipment and technology. He served nine years on the foundation's Board of Directors, including three as its chair.
"I think there's a lot of people, once they come to understand what happens here, begin to see this is a real jewel in the crown of BC post-secondary-level education and training. We've done something here that other people haven't done and I think the net result is we're blessed with good police forces, good fire departments, good paramedic systems, good sheriffs, you can't leave anybody out," said Stewart.
"I can't tell you in words how proud I am every time I drive by this place or think about it, because I saw the culmination of a bit of a dream and a lot of hard work."
Last updated January 9, 2019