Centre for Conflict Resolution: Building strong communities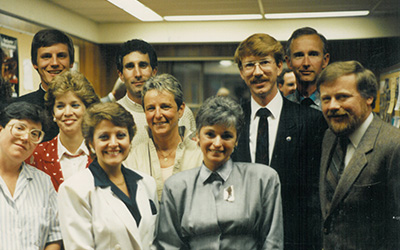 The first graduates from the Certificate in Conflict Resolution program in 1988, including a number of current and former faculty members, with Marje Burdine (front row centre, wearing grey blouse), former faculty and the first administrator of JIBC's Centre for Conflict Resolution.
Marje Burdine was hired in the early 1980s by the Justice Institute of British Columbia (JIBC) to coordinate outreach programs on topics related to family violence throughout British Columbia.
By the end of her six-month contract, Burdine came to the realization that so much of the family violence she heard about in isolated communities was because people didn't have access to ways of helping them communicate effectively to properly manage conflict.
In response, in 1982 she designed a three-day mediation course, JIBC's first, at a time when the skill was little used outside of divorce mediation and labour negotiations.
"The first course I thought we would have 20 people which was the maximum enrolment. And there were about 40 lined up in the hallway to come in. Most of them were local people, professionals, either social workers, lawyers, teachers … It was just a huge success and everyone left so excited and so we just kept building from there."
To meet the demand for more conflict resolution skills and tools, more courses were developed. Eventually, there were enough courses that JIBC was able to offer certificate-granting programs.
"JIBC is probably the only place I could have imagined where there would be the freedom to do that, because it didn't fit within any discipline that was going on at that time, it was not happening in training or education for lawyers or social workers or psychologists. It was a concept that was innovative and JIBC was open to innovation. That's one of the strengths of JIBC … It was really exciting."
Amongst Burdine's conflict resolution students over the years was her son, Kent Highnam, who today is JIBC's Program Director for both the Centre for Conflict Resolution and the Centre for Leadership.
Highnam took his first such course at age 16, and says his mom "raised me in this way of collaboratively engaging in conflict. She had me negotiating my own penalty for not meeting my curfew," he said with a laugh.
Upon returning home after working in international relations, including a time with the United Nations doing disarmament and peacekeeping research, he completed his certificate in conflict resolution at JIBC in 1997, while working for UNICEF and an employer's association. He joined JIBC's faculty in 2000 as a coach, was hired as a program manager in 2003 and took on his current role in 2014.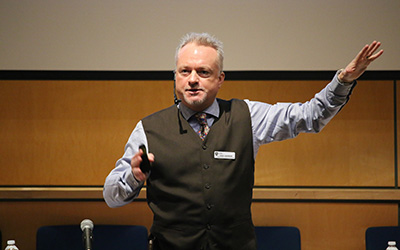 Kent Highnman, the current Program Director of JIBC's Centre for Conflict Resolution, presenting at an event highlighting the fields of mediation and conflict resolution.
Today, JIBC's conflict resolution program is by far the most comprehensive and applied program of its kind in Canada, perhaps even in North America.
The courses are still taught essentially the same way – with a very practical, applied approach that has always used scenario-based training, video-recording and coaching. And the philosophy is the same, of helping people who get stuck when in conflict get unstuck through reframing of the experience of conflict.
What has changed is that mediation and conflict resolution are much more widely recognized as professional fields unto themselves. More psychology is now embedded in the program, looking at cultural lenses, biases, self-reflection and self-awareness, cognitive processes, and more recently, neuroscience, which can identify physical changes in our brains and bodies when triggered under stress and in conflict.
"It's not necessarily changing what we do but it's telling us why what we do works," Highnam said.
Students run the gamut, from those fresh out of high school, to frontline workers to CEOs. The Centre for Conflict Resolution is also playing an increasing role in other areas of JIBC, teaching conflict resolution skills to students from law enforcement and community justice workers to firefighters and emergency management professionals.
Burdine, of course, is proud to see her son now looking after the Centre that she helped establish.
For his part, Highnam said he never really thought of it as following in his mother's footsteps.
"I feel a responsibility for making sure this program stays relevant and continues to add to the societal need for people to not only resolve their conflict, but to develop a cadre of practitioners who can do this as a profession."
He noted that his role at JIBC gives him a much better sense of the impact his work is having on the front lines than when he was working internationally, which is all part of his mother's original objective.
"From the beginning my mom saw the program as a way to change society. She called it a 'grassroots peace movement', which was really her vision. How do we in community create capacity and resources to help people day to day? I think that's still a vision that I have, that everybody who takes a course here is going to impact and affect others in a more positive way right after they leave the classroom."
Last updated January 9, 2019