Four JIBC presidents: In their own words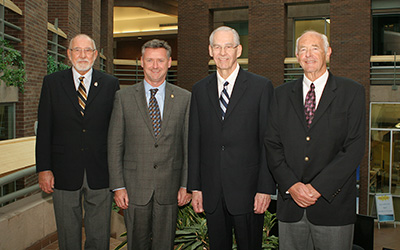 Four presidents from left: Gerry Kilcup, Michel Tarko, Jack McGee and Larry Goble in 2014.
In its 40-year history, the Justice Institute of British Columbia (JIBC) has been led by five presidents. In January 2018, the four surviving presidents sat down, in person and by phone, for a group interview about their experiences at the helm of the Institute.
The interview was conducted with Gerald (Gerry) Kilcup (president from 1978 to 1986), Larry Goble (1988 to 2000), Jack McGee (2000-2012) and Michel Tarko (2012 to present). Collectively, they have led JIBC for 38 years. Here is JIBC's story, from their perspective.
Q: Gerry, as the first president, what was your first impression when you were asked to lead this new institute?
Gerry: Well it was a slow process. From my perspective, the Police Academy was basically the nucleus. When I came out here in '74 the task was to put together a provincial police academy which really consumed a lot of my focus and my time. But eventually, as the years progressed, it was pretty clear that there were a lot of other interested parties as well, particularly in corrections and courts and emergency health and fire. And all of them sort of indicated an interest in getting into it. It was fortunate that the government at the time was able to interpret that need and translate it into some concrete solutions. That was 1978 that they delivered the Jericho Hill site.
Interestingly enough, I was fortunate to get to be the first principal of JIBC and the very first person that got hired was Larry. (laughs) From there, away we went.
Q: It was quite a groundbreaking kind of a concept, wasn't it?
Gerry: Absolutely. I don't think you'll find a representation similar to JIBC anywhere in North America. It really was groundbreaking and a lot of the credit goes to the really progressive people who were involved in the initial stages.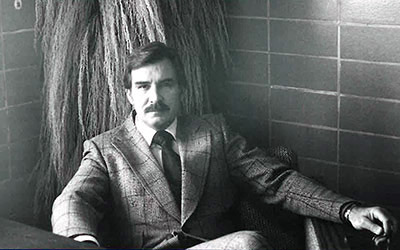 JIBC's founding president, Gerry Kilcup, first came to the west coast to establish the BC Police College, the forerunner of the JIBC Police Academy.
Q: What was the feeling like back then? You'd almost be winging it in a sense wouldn't you?
Gerry: Exactly. In fact I don't think you could do it again today. Back in those days it was pretty freewheeling and we were breaking new ground every time we turned around. But while it was exciting and dynamic and fascinating it also came along with some downsides in terms of the struggles we had with those who were the naysayers.
Q: Could you talk about any challenges in getting JIBC off the ground and even keeping it there over the years?
Gerry: (laughs) Well I'll tell you the one story that was really interesting – One day, this was probably after two to three years of the JIBC running, I got a call from one of the senior officials in the Ministry of Education saying that they were going to close the Institute and they were going to fire off the various academies to the various colleges around the Lower Mainland. And I still to this day in my mind, my question was to this person from the ministry, "Does the attorney-general know about this?" And the answer I got back was, "it's a cabinet decision, it's all done," and I said again, "Does the attorney-general know about this?" And he wouldn't answer me.
I phoned Bob Stewart, who was the chairman of the board of JIBC at the time and said, "Bob, I just got this call." And within an hour he and I were on a plane to Victoria and we were into the A-G's office and he had known absolutely nothing about this cabinet decision. In fact, it turned out there were only two or three people at the cabinet meeting and none of them knew anything about JIBC.
Brian Smith was the attorney-general at the time and I know he went right over to the lieutenant-governor's house and he took the order-in-council out of the pile of stuff that was there for the lieutenant-governor to sign and tore it up.
Q: As time went on, have there been any similar challenges along the way for any of you?
Gerry: Once we got over that hurdle there were challenges that came over the years but they were insignificant to the point that I don't even remember what they were.
Larry: I was just thinking that one of the great strengths of the Institute as we developed during those years is people didn't understand us. And because they couldn't understand us, they had difficulty dealing with us so we had to just deal in between all that. The thing that I remember most was when the Ministry of Attorney-General took over and the assistant deputy director came to the Institute and said, "I've been looking over your future and if you're going to exist in the future you have to get entrepreneurial or die." I think that was one of the great times of our existence because we were entrepreneurial but we became even more so, and I think, continue to this day.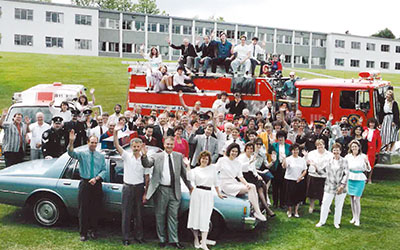 JIBC instructors and staff at the Jericho campus in Vancouver in the mid 1980s.
Q: Larry, could you elaborate a bit about being entrepreneurial?
Larry: Well, when we set up the various divisions, we had police, fire, courts, corrections, and so forth. The other one was community services and the idea was that we were in the business of developing programs and services for people in criminal justice, civil justice and social justice. And the social justice area gave us an opportunity to expand into the community and offer our programs to a wide variety of people. I think at one time we counted it up and we had over 500 different contracts with various groups in the province. A lot of that came through our conflict resolution programs and crime prevention programs, programs in addressing wife abuse and child abuse before people were even aware that that was a problem. And when they got into the community they just grew like crazy and that enabled us also to grow in meeting those needs.
Q: Michel: If I can jump in, Larry and Gerry, I'm curious to learn more about the work that was pioneered in the international space. Last year in 2017 we celebrated 25 years of being in Hong Kong related to the paramedic training with the Hong Kong Fire Service (which operates their ambulance service), and last year was also 20 years of being in Singapore working with the Singapore Armed Forces on paramedic training. Could you comment on that?
Larry: We started that very slowly and it was one of our directors, Tony Williams, who really got interested in international programs. He started with the Hong Kong group, and it just grew from there. Our approach was that we wouldn't get into international programs unless we were sure we wouldn't be losing money.
Q: If it was not necessarily to make money, what was the idea behind pursuing international?
Larry: When we pursued the international programs, we did it with our major client groups and made sure they were supportive of their people getting involved in going over as instructors or having people come to participate in one of those training areas. Our client groups, I think, saw that as a way of improving their reputation as well as ours and also providing extra training for their own staff. So it worked out well for both of us.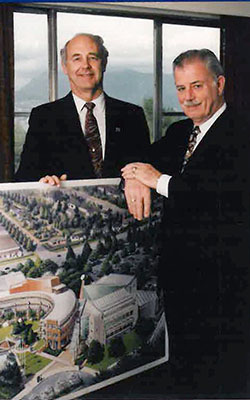 Then-president Larry Goble, left, with Board Chair Bob Stewart and a rendering of the New Westminster campus.
Q: So it was more a matter of improving training experience?
Larry: Well, it was improving training experience but also for JIBC, in the big picture, it was developing an international reputation. We would go out and compete for some of these contracts. I know for the Hong Kong contract the competition was with United States, Great Britain and Australia. And we won. That was fairly impressive, I think.
Jack: When I came to JIBC and was looking at the international area, it was pretty clear to me that one of the main reasons that the Institute had been successful abroad is because of its reputation at home … I think those favourable reports probably did a lot of good for JIBC. And because JIBC was so rigorous about the quality of the programming I think it reflected itself that way.
Larry: In terms of our programs at home and our programs internationally we tended to measure things to meet three different criteria – one is quality, second is flexibility and third is cost-effectiveness. And when you do that, it's very helpful in terms of getting the support of the clients and everyone involved in the program.
One of the things I think was very important to JIBC is our ability to second people from the various divisions that we were providing training for. So we had access to the best people in the field of policing, or fire or corrections or courts or emergency health and have them in to the Institute for three or four years then back to their regular jobs. That ability, I think, was a real advantage for us … where you bring people out of the community who are proven to be the best and help them to share that with new students. It was a great concept and worked well.
Michel: And I'm happy to report that that continues to be at the forefront as a strength of the Institute.
Gerry: Exactly. And they also bring the fresh experience of what the world is like out there.
Q: Could you talk a bit about what the facilities were like in those first years at Jericho?
(Gerry and Larry laugh)
Larry: I can laugh with you, Gerry. I remember the first day we met in a bedroom with paint falling off the ceiling and sitting on old chairs.
Gerry: It's a double-sided story here. We were really fortunate that at that particular time that Jericho Hill School for the Blind had become available. And it brought with it classrooms, and a gymnasium and a swimming pool and some real pluses. But the downside was it was a pretty old building, and … we had to spend a fair amount of money to bring it up to the standard that we eventually got to with it. But it really was fortunate that we were able to access that because, other than that, there weren't any alternatives around other than to build and building wasn't a big thing at that time.
Larry: I always used to say that our site at Jericho was a million-dollar view with a 50-cent building. When we went to New Westminster we got a million-dollar building with a 50-cent view.
(everyone laughs)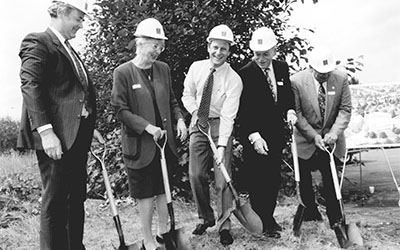 Groundbreaking ceremony for New Westminster campus.
Q: Did the new building bring with it new opportunities and capabilities in terms of holding classes and simulations?
Larry: We just kept growing. It provided us with an opportunity to do more and we always had the ability to do more. It was a great atmosphere for the staff and the students. And we couldn't have been more pleased with the building.
Jack: In many ways the building is a symbol of the promise of JIBC. The collaboration amongst the services and the provision of public safety training for the province … There are lots of things about the building and about the initiatives that have been able to be generated from it that speak to the calibre of the individuals who worked here.
Q: How exactly did JIBC come to start offering undergrad degrees, diplomas and certificates?
Jack: When I came to JIBC I had been at two colleges in Ontario previously. So when I looked at the Primary Care Paramedic and Advanced Care Paramedic programs, I was astonished at the quality of and the intensity of academic rigor that was in those programs and that there was no certification for them. And also I looked at the social justice area and the division was taking people who required a bachelor of social work degree before they could get into the program. I said, "you guys are teaching graduate studies." And that was kind of pooh-poohed. Corrections was much the same because to be a corrections officer you had to have a bachelor's degree.
So I thought gee, this is really interesting. We've got these two graduate programs that we're not calling that, we've got all of this intense work that is happening with the paramedics and then I looked at the Police Academy and my goodness, these guys have got a really rigorous, tough program, it's basically a co-op program.
It seemed to me what they were doing already was earning a post-secondary program without getting a certificate for it. So we thought that would be a reasonable thing to do.
We developed some certificates. From there we started working on a degree, emergency & security management was among the first to jump in. It got a lot of traction because it's available online.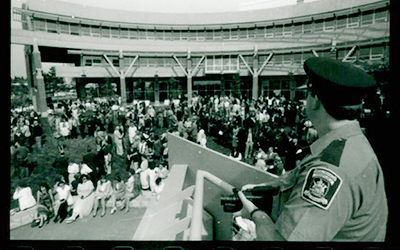 Official opening of the New Westminster campus in 1995.
Michel: Where we're at today is students have a pathway from the intelligence analysis graduate certificate to then ladder into Mercyhurst University's Master of Science. We are working on a partnership with Canterbury Christ Church University on a Master of Science and eventually plan to propose that JIBC offer a Master of Science in Intelligence Analysis. We're also looking at a graduate program in public safety leadership. We're working on a proposal for a Bachelor of Public Safety Administration with our clients in the UAE. We're very excited about building on the legacy that Jack, Larry and Gerry built and led.
Also on the international stage, we are working with China. Their tier one police college students are coming here for one semester towards a four-year bachelor's degree. We're averaging around 100 students three times a year for a four-month term, which is being supported at our Chilliwack campus as we speak. So, very exciting in that regard.
Gerry: When I listen to that I think of the absolutely amazing work that's been accomplished in 40 years. Forty years is not a long time in the life of an organization, it's probably long in our lifetimes. But in terms of organizations, it's absolutely amazing what the 40 years has accomplished. I'm really proud of you guys.
Michel: And I'm really proud of everybody.
Jack: One of the wonderful things about coming to this building is just coming through those doors, the feeling you get.
Larry: Over the years that I was at JIBC, I always felt that it was a real privilege and honour to be working in a place where there were so many qualified and dedicated people who were improving the community. All of the students and all of the staff at JIBC were really great to be around because they were positive, helpful, supportive people.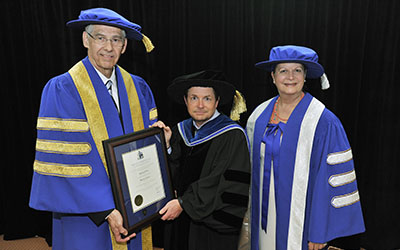 Renowned Canadian actor Michael J. Fox was recognized with an honorary degree in 2012.
Q: Michel: Today our applied learning model is rooted in simulations and experiential learning. Was that always the case back to 1978?
Gerry: Well going right back to the Police Academy… we developed simulations in consultation with UBC department of psychology. They put together a whole package of conflict resolution, conflict management programs for us that were all based on the simulation model. From there it just spun out into a whole variety of other areas.
Simulations were used in terms of the curriculum and Police Academy trying to give recruits practical experience and simulation experience before they went off to their field placements.
Larry: The simulations were based in the Police Academy and as a result of how popular and successful they were I think other academies picked up the idea and moved on trying some of them themselves … It grew through the rest of the Institute because we're all there together sharing all the space and learning from each other.
Gerry: At times we would use people from other academies to be participants in the simulations along with the times we hired professional actors to come in and play specific roles for a real sense of reality. We used staff from other areas.
Jack: Several years ago here Michael J. Fox was honoured with an honorary degree. He spoke of the time when he came out to JIBC hired as an actor. He needed the money so he came out and his job was to run away from a dog that was going to attack him. And he's terrified of dogs. He said he tried it one day and the dog chased him and he held out his arm and thought this is going to be awful and he said, it was.
They wanted him back the next day and he left and said he had some serious thinking to do. I want the job, I want the money but boy, I don't like the dogs. Then he said, well, I'm supposed to be an actor so I'm going to act as if I'm not afraid of the dog. And, he said, that's what I did and I toughed it out.
(everybody laughs)
Gerry: That's a great story.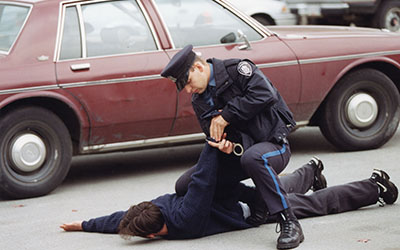 Scenario training has been an essential part of Police Academy training since the beginning.
Q: Had there ever been times when members of the public perhaps mistook scenarios for the real thing?
Jack: It surprised me. One of my first days on the job when I came here they had a cruiser parked up halfway on the sidewalk and they had somebody splayed across the hood putting the cuffs on him and I was standing there thinking, "what on earth…" Until I saw the guy with the clipboard.
(everybody laughs)
Michel: Just thinking about simulations, in the Rix Building we inherited Hydra and Minerva simulation systems from Scotland Yard. Through time we now have the IP on what we call Praxis today which enables us to run scenarios, tabletop exercises, remotely so you don't necessarily have to be in the same room anymore, you can be anywhere as long as you've got an internet connection. So that's really broadening our utility to be able to support stakeholder groups around training and teaching and learning without having to be here in New West.
Q: What would be your most positively memorable experience?
Gerry: That's a simple one for me. It was the day it was announced we were going to get the Jericho site for our main campus and that was in 1978. That was a big day because we had been fretting over what were the alternatives going to be. We were so grateful to finally have that delivered as a campus for us. That'd be my big day because that got us off the ground, that got us a facility, that got us right into the situation where we could start to bring in faculty, bring in programs, build the Institute.
Michel: Before that was announced, where was the training happening?
Gerry: The Police Academy had several trailers set up in the parking lot of the Seaforth Armoury and we had a whole series of classrooms and office space. We used the armoury for our indoor training, drill hall, parade square.
Larry: Corrections Academy had their training in a house and in some office buildings on Kingsway and deputy sheriffs had a trailer at BCIT and I know Emergency Health Services did their training in the Ukrainian Community Centre, and the Fire Academy, each fire department did their own.
One of my best days was the day we moved into Jericho, but the other highlight for me was the day we moved into the New Westminster campus and we opened up that building and opened up a whole new opportunity to grow and build the Institute from that location. I remember again the opening ceremony where we had the premier come to open the campus with us and it was a great day, we had a big crowd and it was a tremendous time in my career.
Jack: There were so many. I just used to love coming to work here so much every day, but I think the day that stands out for me was the day we were able to give honorary degrees. It was, to me, an acknowledgement by the government that this organization deserved a place alongside the other post-secondary institutions in the province and it was a special-purpose institution but nevertheless, it needed to stand alongside the others.
Bob Stewart and Peter Webster received honorary degrees at that time and that was to honour the legacy they brought collectively and individually to the organization through its founding. So that stands out.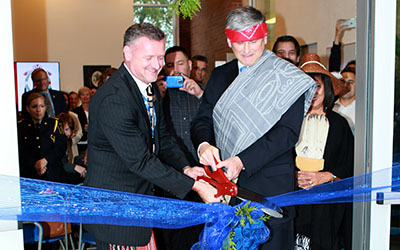 Dr. Michel Tarko officially opening the Aboriginal Gathering Place at the New Westminster campus with then-Advanced Education Minister Andrew Wilkinson.
Michel: One of the best things in my short tenure was the actual funding and development of our Aboriginal Gathering Place. We were the last of 25 institutions to receive support to do just that and when we cut the ribbon with the minister of the day it was framed around, that we were the first institution to have a grand opening post-[Truth and Reconciliation Commission]. It's not a big space but it's a sacred space for the organization and that's really going to help us move the Call to Action forward as we look to indigenizing elements of our programming across all divisions. So in my short tenure that stands out to me.
Gerry: Looking back, 1978 to 1985, it was a delight to have the opportunity to be the principal of the Justice institute of British Columbia … I loved to go to work every day as well. The kinds of people we surrounded ourselves with were just absolutely superlative, they were committed, the critical word would probably be they checked their egos at the door.
Michel: I'm with you. As Jack mentioned, every day I wake up and I'm excited to come to work. That's been my experience the whole time that I've been here. As Larry has said, and certainly Gerry, it's an honour and a privilege to be able to work with the individuals that are a part of this great organization.
Last updated January 12, 2019