Reflections by founding governor Don Sorochan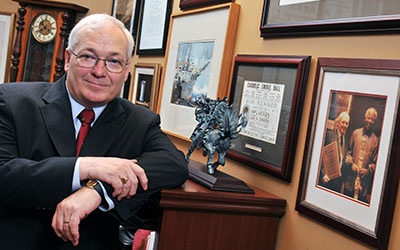 JIBC founding governor Don Sorochan
Lawyer Donald Sorochan was there at the beginning of the Justice Institute of British Columbia (JIBC), having served as the Commission Counsel to the British Columbia Police Commission at the time. The commission had the responsibility for overseeing policing in the province, including the training and certification of police officers.
"I was active in corrections-related matters, having litigated corrections issues related to young offenders and solitary confinement at the British Columbia Penitentiary," Sorochan said. "The correctional scene at the time was focusing on training and certification standards as a way of addressing deficient prison conditions in the United States and Canada."
In addition to being involved in numerous related organizations, he was also an adjunct professor in the Faculty of Law at the University of British Columbia, where he became aware of government plans for legislation that would regulate colleges and institutes in BC, and which allowed for the creation of JIBC.
The first focus of the police commission was to have a consistent, high-calibre training program for all municipal police forces in the province and to bring that training under provincial authority and responsibility, he said. Similarly, it was recognized that there was a need for similar training, standards and certification for corrections employees through a professional training program.
Both policing and corrections training became the core of JIBC's offerings at its start. Sorochan became a founding member of the JIBC Board of Governors, serving from 1978 to 1980.
"When I look back, and with the benefit of 45 years of dealing with government bureaucracies and turf wars, getting JIBC off the ground was remarkably smooth."
The first campus, the Jericho grounds on the south side of 4th Avenue in Vancouver, was built in the Second World War as the Jericho Garrison of the Canadian Army. Part of its facilities had been turned over to the provincial Ministry of Education for the Jericho Hill Provincial School for the Deaf, which had operated on the site since 1955. Not all of the buildings on the site were being utilized by the School for the Deaf and the former military use meant that there were classrooms and other facilities suitable for the proposed JIBC.
From there, JIBC grew and flourished.
"Frankly, everything that has happened with JIBC has been positive beyond my expectations," said Sorochan, who expressed gratitude for the opportunity to be part of JIBC. "The expansion of programs and the beautiful facilities, were only to be dreamed of when we started it all. JIBC is a fulfillment of what I consider a very important objective: the bringing together of the public safety and justice disciplines."
Last updated January 12, 2019