2016 Winter Convocation celebrates the accomplishments of JIBC graduates
Ceremony recognizes more than 500 students who completed certificates, diplomas, bachelor's degrees and graduate certificates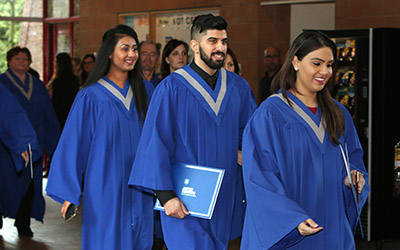 Justice Institute of British Columbia (JIBC) celebrated the achievements of more than 500 graduates and its honorary degree recipient, Gary Bass, at the Winter 2016 Convocation held at the New Westminster Campus February 18, 2016.
"Convocation is an important milestone and a valuable opportunity for all of us to come together and recognize the dedication, effort and commitment you have shown to complete your studies at the Justice Institute of British Columbia," said Dr. Michel Tarko, JIBC President and CEO, in his address to graduates. "Each of you graduating today is part of a vital, growing community who have gained the necessary knowledge, skills and competencies to contribute to safer communities and a more just society."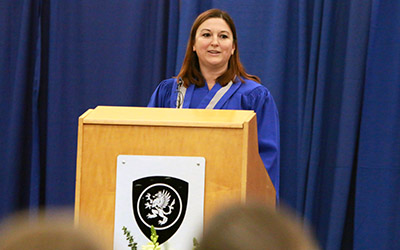 Among the students recognized was Haida Siegmann, Captain of the Fire Prevention Office for the City of North Vancouver and a graduate of the Bachelor of Public Safety Administration who gave the student address at Convocation. In her remarks, she valued the unique education provided at JIBC that included many opportunities to study with students working in various disciplines from around the world.
"JIBC graduates are a diverse group of students representing the School of Public Safety, the School of Health, Community and Social Justice, and the School of Criminal Justice and Security," she noted. "This meshing of backgrounds and life experiences makes for some interesting courses, conversations and ultimately an educational opportunity that is unique and culturally stimulating as the communities that many of us live and work in. This aspect of a diverse education, for me, is my top takeaway from my 'school days' over the last four years."
Retired RCMP leader recognized with a JIBC honorary degree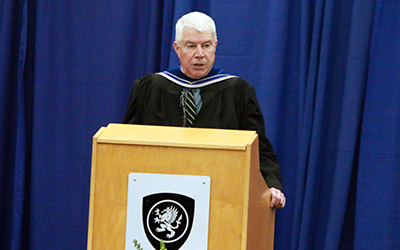 The life-long dedication to justice and public safety by Gary Bass, a 39-year veteran of the Royal Canadian Mounted Police (RCMP), was also recognized at the Winter Convocation. Mr. Bass was conferred an honorary degree in recognition for his service, leadership in policing, and the many initiatives he led to reduce crime and champion real change in the criminal justice system.
In his remarks to the graduates, Dr. Bass said, "You are starting out on a great adventure. I can tell you from my experience that you can achieve anything you want to achieve and have the will to achieve. All you have to do is build on the reason you have chosen your profession and serve your communities in a way that meets the vision of JIBC: 'to contribute to safer communities and a more just society.' Always have that in the back of your minds."
He added: "Never forget that you are a crucial part of the criminal justice and community safety team that could not function without your involvement."
About Justice Institute of British Columbia
Justice Institute of British Columbia (JIBC) is Canada's leading public safety educator with a mission to develop dynamic justice and public safety professionals through its exceptional applied education, training and research. JIBC offers internationally recognized education that leads to certificates, diplomas, bachelor's degrees and graduate certificates; exceptional continuing education for work and career-related learning and development; and customized contract training to government agencies and private organizations worldwide. Our education provides professionals with the knowledge, skills, and abilities to excel at every stage of their career contributing to safer communities and a more just society.
Last updated March 31, 2016