Aboriginal first responder numbers growing in B.C.
Funding from RBC supports delivery of JIBC's Fundamentals of Emergency Medical Responder project for Aboriginal communities in B.C.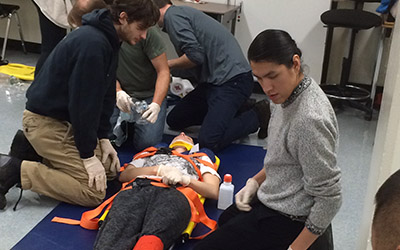 The health and safety of families living in rural and remote Aboriginal communities across B.C. will benefit from enhanced levels of pre-hospital medical care when 36 more Aboriginal students complete their emergency medical responder training next spring.
The students are the latest to enrol in a customized course which provides participants with the knowledge, skills and resources to deliver entry-level, pre-hospital, emergency health care, through the Justice Institute of British Columbia's (JIBC) Fundamentals of Emergency Medical Responder (FEMR) Project. By the spring of 2016, the project will have trained 118 Aboriginal first responders, with the support – for the third consecutive year – of a $40,000 grant from RBC.
"We are very grateful to RBC for its support," said Kathy Harms, Director of JIBC's Health Sciences Division. "Over the first two years of this project, RBC's generous gift has touched 82 Aboriginal students. This is truly making a difference and contributing further to healthier, safer communities."
Bernard Magnan, Chair of The Justice Institute of British Columbia Foundation said, "This valuable training project is leaving a lasting, positive impact on the education of future public safety leaders across the province and we greatly appreciate RBC's support."
The FEMR project was developed out of a needs analysis conducted with numerous stakeholders and Aboriginal community leaders. It is designed to provide a cost-effective and efficient way to increase the standard of care and first responder capabilities in rural and remote Aboriginal communities in B.C. As part of the project, valuable resources like the Heart & Stroke Foundation's CPR Anytime Kit are provided in the community to ensure a legacy of education and emergency response.
The training itself incorporates community-oriented and culturally relevant information, including information about some of the common medical conditions found in rural and Aboriginal communities. It also discusses how to be mindful of traditional needs and expectations and the importance of understanding and respecting the unique cultural norms in any given community.
To date, many FEMR graduates have continued their education to further enhance their first responder capabilities in the community. Last year alone, 31 FEMR graduates went on to complete their Emergency Medical Responder (EMR) training and start the process to become licensed practitioners. Three of these EMR graduates started their Primary Care Paramedic education in September in Port Alberni.
"It is a tribute to the value of this project and the dedication of its students that so many graduates are taking their training to the next level, to provide much-needed first responder services in Aboriginal communities across B.C.," added Tim Manning, Regional Vice-President, RBC Commercial Banking, B.C. "We are proud to support this vital project."
Participants are very positive about their training experiences. A FEMR graduate of the program in Port Alberni said, "This course has given me confidence. I can't wait to use my new skills in my community." Another graduate who completed the program in Merritt commented, "It was great that we could take this course in our community. The instructors were committed to help us."
About The Justice Institute of British Columbia Foundation
Since 1993, The Justice Institute of British Columbia Foundation has worked on behalf of JIBC to raise funds for student scholarships and bursaries, applied research, equipment and other tools for learning. By inspiring giving through various fundraising initiatives, the Foundation helps maintain the JIBC's reputation for excellence and innovation as Canada's leading public safety educator.
Last updated December 4, 2015