Additional support for BC first responders as fentanyl crisis grows
Safety workshops being held in regions where illicit drug overdose deaths are rising due to fentanyl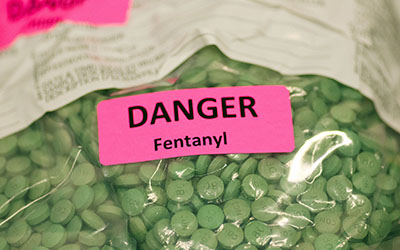 With the growing fentanyl crisis additional support is being provided to first responders through a series of fentanyl safety workshops being held across British Columbia in May in partnership with the Justice Institute of British Columbia (JIBC).
The highly-toxic narcotic presents a high risk to first responders, drug investigators and the general public. The two-day workshops are aimed at helping to reduce the risks to first responders.
The workshops, developed by police leaders and drug experts, will take place May 3-4 in New Westminster at the JIBC campus, May 11-12 in Nanaimo, May 25-26 in Prince George and May 29-30 in Kelowna. Day one of each series of workshops will be open to all first responders, including police officers, paramedics and firefighters, and will focus on the dangers of fentanyl, how to identify and handle it safely. Day two will be restricted to law enforcement personnel and public safety investigators, and will cover topics including trends in fentanyl trafficking, investigations and prosecution strategies.
"With the B.C. public health emergency created by fentanyl growing, first responders across the province are increasingly at risk," said Steve Schnitzer, director of the JIBC Police Academy. "These workshops across the province aim to provide the latest information to help keep our first responders safe, and complement the other resources available, such as the fentanyl safety website (www.fentanylsafety.com) developed by the Institute."
The workshops are free, thanks to the generous sponsorship of the Police Services Division within the Ministry of Public Safety & Solicitor General and the Civil Forfeiture Office of BC.
Quick facts, courtesy of the BC Coroners Service:
The proportion of apparent illicit drug overdose deaths in the province in which fentanyl was detected, alone or in combination with other drugs, was 62 per cent in 2016. In 2012 that figure stood at only four per cent.
There were 120 suspected drug overdose deaths for BC in March 2017, or about 3.9 deaths a day, a 51.9 per cent increase over March 2016 when there were only 79 such deaths recorded.
Fentanyl-related deaths appear to account for the increase in illicit drug overdose deaths since 2012 as such deaths excluding those involving fentanyl have remained relatively stable since 2011.
Okanagan, Richmond, Vancouver, South Vancouver Island, Central Vancouver Island and Norther Interior health service delivery areas saw a more than 50 per cent increase in illicit drug overdose deaths compared to 2016.
About Justice Institute of British Columbia
Justice Institute of British Columbia (JIBC) is Canada's leading public safety educator with a mission to develop dynamic justice and public safety professionals through its exceptional applied education, training and research. JIBC offers internationally recognized education that leads to certificates, diplomas, bachelor's degrees and graduate certificates; exceptional continuing education for work and career-related learning and development; and customized contract training to government agencies and private organizations worldwide. Our education provides professionals with the knowledge, skills, and abilities to excel at every stage of their career contributing to safer communities and a more just society.
Last updated June 21, 2017