Advanced Education Minister visits JIBC Okanagan campus
Honourable Naomi Yamamoto experiences paramedic education first-hand
JIBC welcomed BC Advanced Education Minister, Honourable Naomi Yamamoto, to the Institute's Okanagan campus in Kelowna on July 8.
During her hour-long visit, Minister Yamamoto experienced first-hand a number of the applied learning tools and techniques used to prepare students for a career as a Primary Care Paramedic (PCP).
Following a tour of the campus, led by JIBC School of Health Sciences Dean Eddy Workhoven, Minister Yamamoto worked alongside students performing Cardiopulmonary Resuscitation (CPR) on a high-fidelity patient simulator. This was followed by a ride-along in an ambulance used for training, which provided insight into the demands and pressure of providing pre-hospital care. Following her on-car experience, Minister Yamamoto spent her remaining time in a classroom meeting with PCP students.
"The hands-on training our health-care professionals receive at the Justice Institute of BC is impressive," said Minister Yamamoto. "The simulated training opportunities offer a way to practise under pressure, which adds value for our professionals when they are at work in our communities."
"Staff and students at our Okanagan campus were thrilled to have the Minister visit and demonstrate such keen interest in our Primary Care Paramedic and Emergency Medical Responder programs," said Dean Workhoven. "Her willing and enthusiastic participation in the simulations with our students was particularly well-received."
Minister Yamamoto visited JIBC's New Westminster Campus on April 19.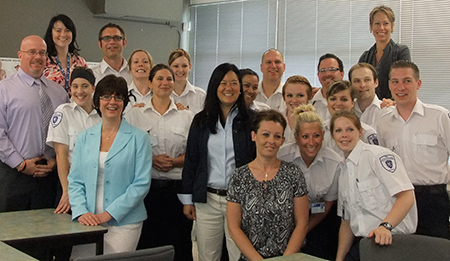 Last updated October 28, 2014