Applied Research Day highlights significance of student-led research projects
7th annual event featured research conducted by students, faculty and staff at JIBC focused on helping keep communities safe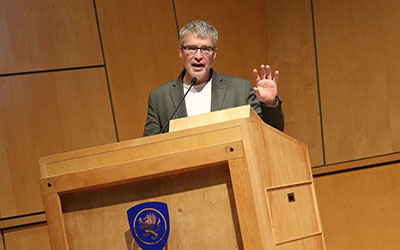 Dr. Greg Anderson, Dean of JIBC's Office of Applied Research & Graduate Studies, presents his address on the importance of student-led research at the seventh annual JIBC Applied Research Day recently.
The seventh annual Applied Research Day showcased 39 research projects by Justice Institute of British Columbia undergraduate students, faculty and staff at JIBC's New Westminster campus recently.
This year's event focus was on the importance of research conducted by students in JIBC's undergraduate degree programs. As part of the applied nature of JIBC's degrees, students are required to complete a capstone research project on a relevant issue or topic of interest to the student. This year's event featured student research from JIBC's Bachelor of Law Enforcement Studies (BLES) and Bachelor of Emergency and Security Management Studies (BESMS) programs.
"Undergraduate research increases student engagement from induction to graduation, in research and inquiry into disciplinary, professional and community-based problems and issues. Participating in applied research and social innovation projects provides students with enhanced real-world, hands-on learning experiences and it deepens their learning experiences," said Dr. Greg Anderson, JIBC's Dean of the Office of Applied Research and Graduate Studies in his address. "Applied research serves the province of BC by creating a knowledgeable workforce."
Anderson noted that helping students explore their passions and interests through research also helps faculty members themselves, as it expands their horizons beyond their own personal areas of research.
He added that JIBC aims to find practical solutions to real-world issues in the justice and public safety fields and its unique structure, having all such professions represented under one roof, allow it to take an interdisciplinary approach.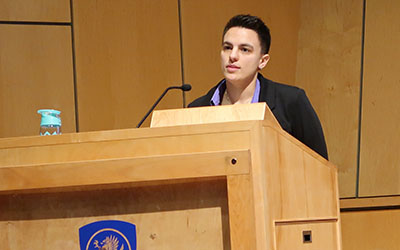 Bachelor of Law Enforcement Studies student Louise Lathey presented on the link between animal cruelty and interpersonal violence.
Student research projects this year included one by BLES student Louise Lathey who examined the link between animal cruelty and interpersonal violence. She explored the criminal histories of several people convicted of animal cruelty and found that they all were later convicted of other violent crimes.
"I wanted to delve into this link and come up with, not necessarily solutions but just some areas of study that could help the criminal justice system prosecute cases of animal cruelty," said Lathey. "Because violence predicts violence it's quite obvious and prevalent that a violent person who commits a violent act is likely to commit a different type of violent act."
Among the student research presented were projects on: the effectiveness of youth diversion programming in reducing recidivism rates among youth; the implications of post-traumatic stress disorder on police; sex offender rehabilitation; and the effectiveness of restorative justice on Aboriginal youth.
Two student projects were recognized with capstone poster awards: BESMS student Melodie Hutmacher received an award funded by The Justice Institute of British Columbia Foundation, while Ben McKiernan received the BLES program award.
Faculty and staff research featured
Applied Research Day also provided an opportunity for faculty and staff to present some of the research work they are currently conducting at JIBC.
Projects highlighted included: the causes and effects of assaults against police officers in BC; assessing the impact of faculty training for supporting students with disabilities; and methods of quickly assessing buildings for safety and stability to help get people back into their homes and workplaces within hours or days of a major disaster.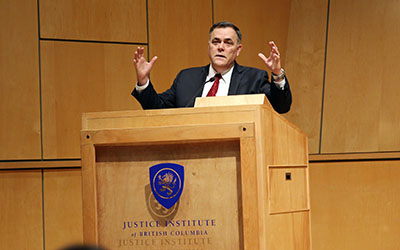 Keynote speaker Dr. Darryl Plecas, professor emeritus at the University of the Fraser Valley, spoke on the value of using research to engage and inspire students.
Keynote speaker Dr. Darryl Plecas, Abbotsford South MLA and professor emeritus at University of the Fraser Valley, spoke on the opportunities provided through student involvement in applied research.
"I see research as a way to teach students, get students engaged, get them excited about going to school," Plecas said.
He noted that in addition to being of value to the field by providing data to help solve real-world problems, his goals of research are to provide learning opportunities for students and provide them with a chance to gain accomplishments. Students' efforts result in their names being listed as co-authors of published research and leaders of research presentations.
It all stems from inspiring students to achieve, he said.
About Justice Institute of British Columbia
Justice Institute of British Columbia (JIBC) is Canada's leading public safety educator with a mission to develop dynamic justice and public safety professionals through its exceptional applied education, training and research. JIBC offers internationally recognized education that leads to certificates, diplomas, bachelor's degrees and graduate certificates; exceptional continuing education for work and career-related learning and development; and customized contract training to government agencies and private organizations worldwide. Our education provides professionals with the knowledge, skills, and abilities to excel at every stage of their career contributing to safer communities and a more just society.
Last updated May 2, 2017