Award recipients named for JIBC Foundation Gala on December 3
Event proceeds will provide JIBC student financial support, fund research opportunities, and purchase equipment and other tools for learning
JIBC will celebrate a milestone on December 3: The 11th JIBC Foundation Awards for Justice and Public Safety – our Awards Gala – will take place at the Hyatt Regency Vancouver. Proceeds from the Gala fundraiser, which begins at 6 pm, will support JIBC student scholarships, bursaries and awards; fund research opportunities; and purchase equipment and other tools for learning.
The Gala, generously supported by presenting sponsor Scotiabank, will feature a three-course banquet, a live auction, and presentations of four awards:
Dr. Joseph H. Cohen Award to be presented to:

The Honourable Steven L. Point, OBC, Lieutenant Governor of British Columbia
Barwatch
Anthony P. Pantages, QC Medal to be presented to:

The Honourable, Robert J. Bauman, Chief Justice, the Supreme Court of British Columbia
JIBC Foundation Community Leadership Award to be presented to:
JIBC Foundation Heroes & Rescue Award to be presented to:

Shayne Bucholz and John Semple, Primary Care Paramedics
Cyril Ozeroff, BC Corrections and Volunteer Firefighter
Also being honoured is retiring JIBC President Jack McGee, who will be recognized for 12 years of exceptional leadership at the Institute.
Early Bird ticket pricing is available until October 15, 2012. Buy now and save.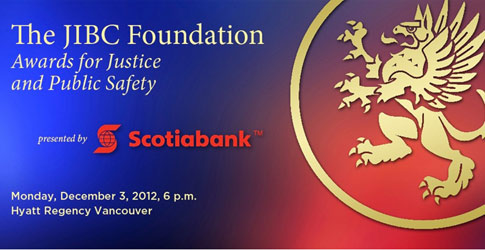 Last updated June 14, 2013