B.C. Fire Training Officers Association proud to support JIBC Library
Donation provides new reference materials for fire service professionals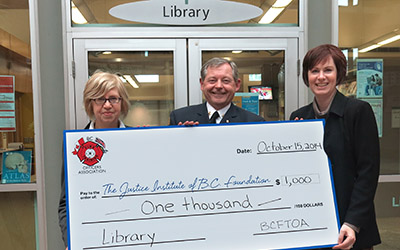 April Haddad, Institute Librarian with Rob Clausen, Secretary, BC Fire Training Officers Association and Assistant Fire Chief, Township of Langley Fire Department, and Tracy Campbell, Associate Director, Development, JIBC and Interim Executive Director, The JIBC Foundation
New books and DVDs are making their way onto shelves at the JIBC Library this fall thanks to a recent donation from the British Columbia Fire Training Officers Association (BCFTOA).
"This partnership, and the way the donation is applied, provides valued information for the safety and training of our fire service," said Dean Colthorp, president of BCFTOA. "The JIBC Library is a tremendous resource to the fire service, and we appreciate the efforts of the library staff and their ongoing contribution and support to our membership."
Since 2001, BCFTOA has donated over $15,000 to support the purchase of the latest reference materials for its members and other professionals in the fire service in B.C.
"We appreciate the continued support of BCFTOA and its members," said Bernard Magnan, JIBC Foundation board chair. "These reference materials will serve as an important educational resource for firefighters throughout B.C. and students and faculty in courses offered by the JIBC Fire & Safety Division."
About BCFTOA
The British Columbia Fire Training Officers Association (BCFTOA) is dedicated to gathering information on training standards and providing this information to fire departments so they may effectively and safely train their members. In a world of ever changing standards and regulations, the BCFTOA provides fire departments with the most current, up-to-date course information and training requirements.
About The JIBC Foundation
Since 1993, The JIBC Foundation has supported the Justice Institute of British Columbia by raising funds for student scholarships and bursaries, applied research, equipment and other tools for learning. By inspiring giving through various fundraising initiatives, the Foundation ensures that JIBC continues to maintain its worldwide reputation for excellence and innovation as Canada's leading public safety educator.
Last updated November 13, 2014