Canadian Western Bank donates $25,000 for JIBC student support
Law Enforcement Studies & Paramedic students to receive tuition funding
Students enrolled in JIBC's Primary Care Paramedic (PCP) Certificate and Law Enforcement Studies Diploma (LESD) programs now have access to an additional source of funding to cover the cost of their tuition. Canadian Western Bank has invested $25,000 in a new award that will be distributed in five annual awards of $1,000 each, over the next five years.
The PCP certificate program equips students with the foundation required to practice as a paramedic in a wide variety of emergency medical services environments here in BC, or across Canada.
The LESD diploma Program provides students with the theoretical background, applied skills and specialized knowledge required for entry-level positions, in a range of investigation and law enforcement occupations.
"We are very proud to provide access to more support for students who could contribute to society in a variety of emergency response fields," said Canadian Western Bank Executive Vice President Greg Sprung, who announced the new award along with Senior Vice President and Regional General Manager Mario Furlan.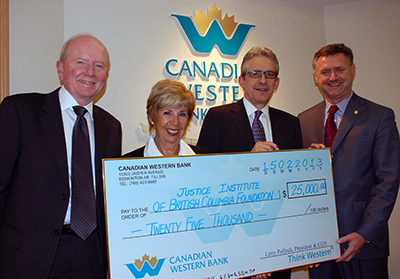 L to R: Greg Sprung, Executive Vice President; Canadian Western Bank, Marg Vandenberg, Director, External Development, JIBC; Mario Furlan, Senior Vice President & Regional General Manager, Canadian Western Bank; Dr. Michel Tarko, President, JIBC
Both programs continue to experience significant growth in enrollments, reflecting the anticipated market demand for justice and public safety professionals, and JIBC's well-earned reputation for producing job-ready graduates.
"Many of our programs are attracting a greater number of recent high school graduates, and in order to ensure the success of our students, we need to enhance the breadth of our available student support," says Dr. Michel Tarko, JIBC President and CEO. "This would not be possible without generous support from businesses like Canadian Western Bank, who provide donor-contributed scholarships, awards and bursaries."
Last updated October 28, 2014